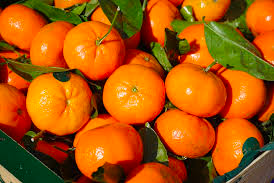 Sitting "criss-cross applesauce" on the circle rug in my daughter's kindergarten class last year, I learned something new. Maybe it wasn't completely new, but certainly not practiced consistently in the "rush around world" I seem to be living in.

Ms. Indu, the founder of the school, passed around a little white basket of brightly colored clementines to all of the parent-night attendees. She instructed each person to select a fruit, then encouraged us to examine the smooth texture. She quietly described the hands that planted the seeds...hands that were passed down from ancestors, and ancestors, and ancestors. She characterized the process of love and nurturing that allowed it to grow into a tree. As the fruit ripened, sweet and heavy, she discussed the hands that picked it from the green leaves so high up in the tree. How many hands passed the clementine as it was washed, shined, packed and transported to the grocery store. She detailed the careful stacking of each clementine by a person who came from ancestors, who came from ancestors, who came from ancestors. She considered the inspection and selection that you, the consumer, went through to bring this delicious snack home.
As the mindful activity unfolded, I watched my husband Bill's face out of the corner of my eye. He sat, looking at the clementine and listening intently to Ms. Indu speak. I fought back a sudden wave of the giggles as I wondered what this 45-year-old man would do when asked to eat the delicious fruit. Bill is what I would call a "reformed picky eater." When he was young, he would reject a hamburger if the plate was sprinkled with parsley. Over the past 10 years he has developed into what I would consider a "typical eater" with occasional moments of adventure. One thing, however, that I knew for sure was that he did NOT like clementines. Clementines, oranges, grapefruit, none of them!
I closed my eyes and concentrated on putting the clementine segment in my mouth. Ms. Indu continued to guide us through the mindful activity of tasting the sweetness of the fruit, savouring the tangy yet sweet ...wait...what did I hear? Was that...chewing? Bill was chewing. Eyes closed, intently listening, and chewing. He was not just eating a piece of the clementine, he was eating the entire fruit. Mindfulness.
Mindfulness, in this case, turned my "typical eater" into a person who now purchases a bag of clementines every time he goes to the grocery store. He is now a person who carefully stacks the fruit in a blue glass bowl on our counter and enjoys the flavor and benefit of this nutritious snack. That moment of sitting on the kindergarten rug with purposeful and guided thought actually changed his pattern of thinking. I think he surprised himself that evening. He certainly never thought of himself as a citrus lover.
As I processed the mindful activity that led to a pattern change for Bill, I started to ponder school environments, students and how simple mindful activities might shape everyday activities. Research has shown that mindful behavior actually changes the neurological patterns in the brain. Mindful activities can promote goal setting and attainment, overall peacefulness throughout a school day and can be a confidence builder for a student who is struggling.
As a teacher, mindful attention to the day can increase student connectivity and might bring attention to the individual gifts students bring to the table with a reduced focus on those items that seem to be out of our control.
I was recently in a classroom in Greencastle where a teacher of students with Emotional Disabilities was detailing some of the progress the students had experienced this semester. She explained that every morning the students took a moment to reflect quietly on the upcoming day, to process through the daily hurdles and to have a moment to gather thoughts of how to navigate. She attributed much of the success of her students to that carefully planned moment in time, and stated that if something happened and that moment did not occur, the day definitely reflected it. The skill she was teaching did not cost money. A student never had to be without it because it comes from within. It was a life skill that encouraged goal setting and personal growth. What more could we possibly want for our students?