The 2016 Olympics a
re over! New records have been set! History has been mad
e!
W
ha
t an amazing two weeks of individ
uals and teams working together. Everyone working towards
a
common goal. Athletes helping, and at times even consoling, other Olympia
ns. Even though there is
only one gold medal per event all the athletes who competed worked to finish, to do their best. Every athlet
e had high expectati
ons, they did not give up. You must admit just being in a race with Michae
l Phelps had to be intimidating, yet e
veryone raced with a gold medal in mind.
We, as educators, ha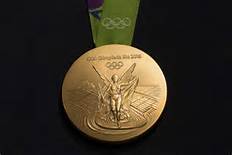 ve been challenged to make sure that students with dis
abi
liti
es
als
o 'go for the gold'. On November 16, 2015, OSERS (Office of Special Education and Rehabilitation S
ervices) issued a Dear Colleague Letter regarding FAPE (Free Appropriate Public Education). In the opening paragraph of that doc
ument, it states that "children with disabilities are to be held to high expectations and have meaningful access to a State's academic content standards". Cert
ainly, it is a challenge to have ALL students working on the statewide standar
ds, but not impossible. The document goes one step
further and states that the "individualized education program (IEP) for an eligible child with a disability under the Individuals with Disabilities Education Act (IDEA) must be aligned with the State's ac
ademic content standards for the grade in which the child is enrolled'! The bar has been raised. All students does not just mean only those students serviced in the Least Restrictive Environment (LRE) settings. All students also includes those students in life skills classrooms. Every student should now be working on standards based on grade level, not functioning level.
At first, you must admit it seems ridiculous for ALL students to be working on grade level standards. Obviously, some out of touch policy maker in DC is just trying to stir up the pot! But if you think about it the thought of ALL students working on grade level standards makes a lot of sense. When we have high expectations for our students they will perform to those standards. (This brings back memories of college psych classes and the Rosenthal Effect.) So look at the Indiana standards and figure out how they can be broken down. How can technology be infused within the standard to bring student success? We have at our fingertips a variety of tools (and even tools yet to be created). There are tools that allow students to show what they know and not dependent on being able to read. We constantly, as special educators, work at scaffolding the curriculum to eliminate the barriers. We are, without actually realizing it, infusing some elements of Universal Design for Learning (UDL) into the curriculum.
So I urged you to raise the bar for your students. Demand high expectations! Have your students go for the gold! Allow them to become successful individuals! And for those who can't wait or want to get cheap airfare 2018 Winter Olympics in South Korea (2/9-2/25) and 2020 Summer Olympics in Tokyo (7/24-8/9).