On a recent gorgeous summer night the only choice my family had to make was whether to walk or ride bikes through town. The unanimous vote was to walk, and the mile that separates our house on Franklin College Campus to the courthouse on the square was full of colorful discussion. My 6-year-old daughter Zoë was very excited about the adventure. She mused aloud about many topics -- including how high the water was in the creek, why the college boys next door grilled in the rain and when she could host her next sleep-over. As we wandered through the streets of the downtown area, smoky barbecue aroma surrounded us from the annual competition that had taken place earlier that day.
We found ourselves heading south on Main Street toward a labyrinth nestled in a small sculpture garden that Richard Goss, owner of Richard's Brick Oven Pizza, built in 2015. The labyrinth that started out as foot-tall bushes now loomed over our heads.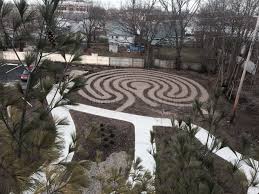 Zoë asked endless questions about the purpose of a labyrinth, what it was used for and what people did once inside. I explained that labyrinths were used for meditation and reflection, moving through the intricate design was personal and people used it for different reasons. We stood at the entrance of the maze together. The only direction I gave her was that once inside the labyrinth walls she could move through in her own personal way, but with a catch. She would have to be silent. I explained that some people (like me) chose to reflect and think in a labyrinth, which is hard to do with people talking or making noise. She nodded in understanding and looked longingly at the entrance. I asked her if she would like to go in first and she entered, smiling over her shoulder.
I moved onto the stony pathway next, ambling at a medium pace but deliberately taking in every step, trying to clear my mind. As the fog began to lift, tiny granules of thought began to form into larger structures, castles of ideas began to envelop the dark corners of my brain. With every step, every twist and turn of the path, I felt myself sinking into the calmness and refreshment of what the labyrinth meant to me.
I glanced to my right and made out the shape of my husband, Bill, as he followed his path through the labyrinth. Our paths that once seemed very different converged for a brief moment. His eyes never met mine as he focused on a spot on the horizon; he walked slowly and deliberately and appeared to be far away. He methodically moved through the intricate design in total silence. I ached for a moment, wishing I could focus my mind in the same way, shutting out the sound of the breeze, the birds overhead, the occasional swish of my arms brushing against the hedge wall.
WHOOSH...I could see my daughter's pink shirt through the hedge in a blur as she ran by. I could see her curls blowing back in the breeze. My attention turned to the sound of the gravel crunching under her feet in a rapid pace, her head tilted slightly back in sheer exhilaration but still in complete silence. I giggled to myself as she dashed by. She was doing exactly what I asked her to do, but her style was completely contrasting mine.
Upon reflection I realized that we had one labyrinth and one instruction yet three totally different interpretations of how we were going to complete the task. Was my method any better than Zoë's? Was my reaction to the labyrinth any less because I was not focused like Bill? We all reached the end with a better understanding of what the journey meant to us. It was personal and uniquely executed but the gains were similar.
As I walked away from the labyrinth, I considered the principles of Universal Design for Learning (UDL). Figuring out the most personal and unique way to increase knowledge while being given a multitude of tools and approaches seems like a never ending task. Piquing interest/designing education in order to engage students who come from so many different backgrounds and preferences in learning is the hurdle that teachers face daily.
Allowing for differences, planning ahead to make sure that those differences are not only accounted for, but respected every day, is what UDL is all about. After all, it is not how we get to the finish line, it is what we know when we get there. Our journey is the most important part.