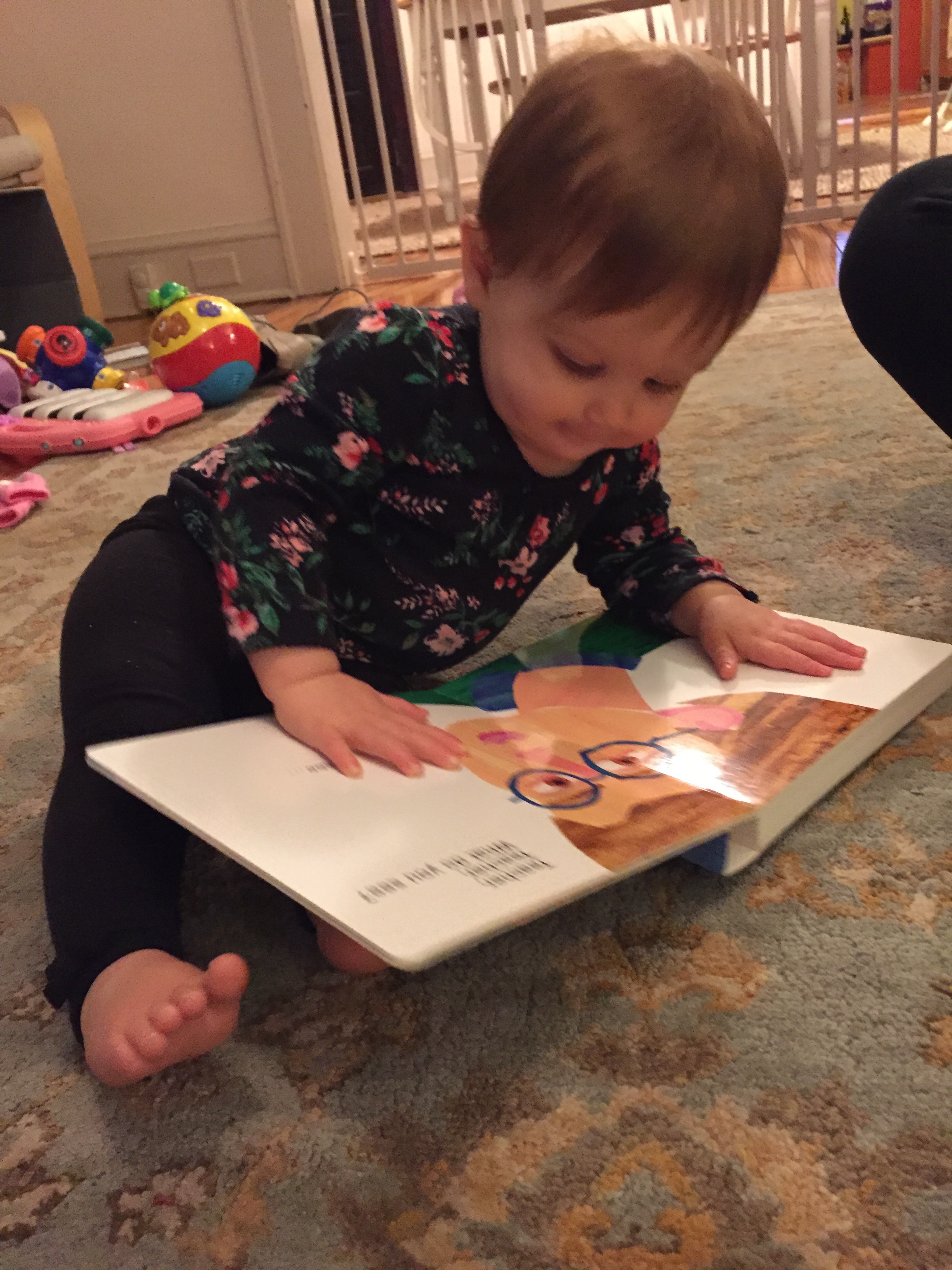 Meet Nora. The most amazing Little on the face of the earth, A.K.A.my granddaughter.

At ten months of age, she is taking on the world around her. Among other things, she is busy exploring her physical environment, deepening her connections with others both socially and emotionally, and encountering the language around her with great zeal.

Like many children, her parents and numerous others have a vested interest in providing her with multiple ways to engage in their world of language and their methods of communication. She is enjoying a variety of experiences that include read alouds, interactive books, rhythm and rhyme, movement, body language, facial expressions, physical contact, tactile explorations and more.

As I've watched Nora light up with joy when her mother sings songs and chants rhymes with her, my mind has repeatedly gone back to a Hands Land workshop I attended this past fall. The workshop featured American Sign Language (ASL) rhymes and rhythms designed for young children whose native language is ASL. (I do not know very much ASL, by the way.)

The Hands Land ASL rhymes and rhythms are specifically designed to promote language acquisition, phonological awareness and foundation for literacy. During the workshop, we experienced a variety of activities that incorporated story, rhythm, rhyme, movement, body language, facial expressions and more. I'm pretty sure I lit up with the same joy I've seen roll across Nora's face so many times.

The value and importance of early and consistent language development is a well-proven fact. Children who are deaf and hard of hearing experience the world through a visual lens; their language is visual and their learning style is visual. As a point of clarification, children who are hard of hearing who use listening and spoken language are still reliant on visual language learning, such as lip reading and body language.

A fully accessible language with which children can interact naturally is vital for every child. The problem is many children who are deaf and hard of hearing have less access to early and consistent language than their hearing counterparts. While children who are deaf and hard of hearing use visual language and visual learning, they may come to school without having had the necessary exposure and access to their natural language and learning style.

According to Marschark and Hauser, in their book How Deaf Children Learn, there is a positive correlation between children who have a strong early language foundation and their cognitive development. The issue of being deaf has no negative impact on cognitive development; rather, it is an issue of not having had enough access to language. The particular background of every child who is deaf or hard of hearing varies dramatically related to how he or she has learned language and how he or she uses language for communication.

This information is significant to me for a number of reasons:

1) It challenges me to think about my own communication methods and the ways in which I interact with the students I encounter.

2) I realize I have much to learn from each and every student regarding his or her particular background with language and his or her use of that language for communication.

3) Even if I know the preferred language and communication method of a student, it doesn't mean that he or she has had sufficient exposure or access to it.

4) There is joy in the acquisition of language and in being able to communicate with other people. That's called human connection. I want to do everything within my power to facilitate that kind of joy.

PATINS is here to support you in every way we can. It brings us great joy to make new connections and to deepen already established ones! Give us a call!

* An informative, free online course by Gallaudet University, "Educating Students Who are Deaf or Hard of Hearing: A Guide for Professionals in General Education Settings" offers a wealth of knowledge, insights and instructional strategies related to the education of Deaf and Hard of Hearing. This course served as a key source of information for this writing.