2019 Braille Challenge
The Indiana Regional Braille Challenge 2019,
Willy Wonka and the Braille Factory
was held at the Indiana School for the Blind and Visually Impaired on Saturday, March 2, 2019. We had an exciting day of competition and family activities that were geared toward our theme as well as a family banquet that evening.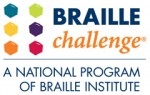 The Braille Challenge, an event of the Braille Institute of America, is the only national reading and writing contest in braille for students who are blind and visually impaired. Contests include reading comprehension, braille speed and accuracy, proofreading, spelling and reading tactile charts and graphs. 60 national contestants, representing the 12 top-ranking scores from each of the 5 age groups (grades 1-12), are invited to the finals in Los Angeles, California based on regional preliminaries. More than 1100 school-age students across the country participate in the preliminary contests.




2018 First Place in the National Braille Challenge Varsity Level:

Mitchell Bridwell won for the second consecutive year.



2018 Finalists from the Regional Challenge

selected to attend the

2018 National Braille Challenge Competition

, were Ian Receveur (Sophomore Level); and Mitchell Bridwell (Varsity Level). The National Braille Challenge 2018 was held at the Braille Institute of America in Los Angeles, CA this summer.



Winners of the 2018 Indiana Regional Braille Challenge were:

Freshman Level: Kaylei Carie (First Place) NE Dubois Schools; May Resendiz (Second Place), Avon Community Schools; and Matthias Vescelus (Third Place), Noblesville Schools

Sophomore Level: Ian Receveur (First Place) New Albany-Floyd Schools; Kylah Cook (Second Place) Warsaw Community Schools; and Mattix Garrett (Third Place) Warsaw Community Schools

Junior Varsity Level: Kaitlyn Overshiner (Second Place) Indiana School for the Blind and VI; Drew Meece (Second Place) SW Dubois Schools; and Jacob Rawson (Third Place) IN School for the Blind and VI

Varsity Level: Mitchell Bridwell (First Place) IN School for the Blind and VI; Marie Villaneda (First Place) IN School for the Blind and VI; Jessica Vaughan (Third Place) South Gibson Schools.

To learn more about the Braille Institute Braille Challenge, visit
http://www.brailleinstitute.org/braille-challenge-homepage.html.