2019 Cane Quest
The annual Indiana Cane Quest, a fun annual orientation and mobility contest through the Braille Institute of America, took place at the Indiana School for the Blind and Visually Impaired on Sunday, March 3, 2019, following the state regional Braille Challenge.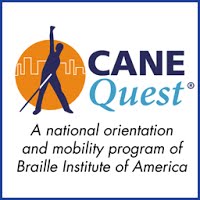 Cane Quest is open to eligible blind and visually impaired youth in grades 3-12 and is a great way for O&M Specialists and parents to motivate students to sharpen their skills. Grade categories include: Scouts (grades 3-6); Explorers (grades 7-8); and Trailblazers (grades 9-12). Cane Quest is not a race, but more of a rally. Contestants were given auditory instructions and earned points to represent their success during the event.
2018 Cane Quest Winners were:
Scouts:
Aliya Gates (First Place), Indiana School for the Blind and VI; and Trenton Wheatley (Second Place), Northwestern Consolidated Schools.
Trailblazers
: Taengkwa Sturgell (First Place), South Gibson Schools; and Marie Villandeda (Second Place), Indiana School for the Blind and VI.
Congratulations to all of our 2018 Cane Quest winners and participants.
For more information on the Braille Institute's Braille Challenge and Cane Quest, visit
http://www.brailleinstitute.org/cane-quest-home.html.