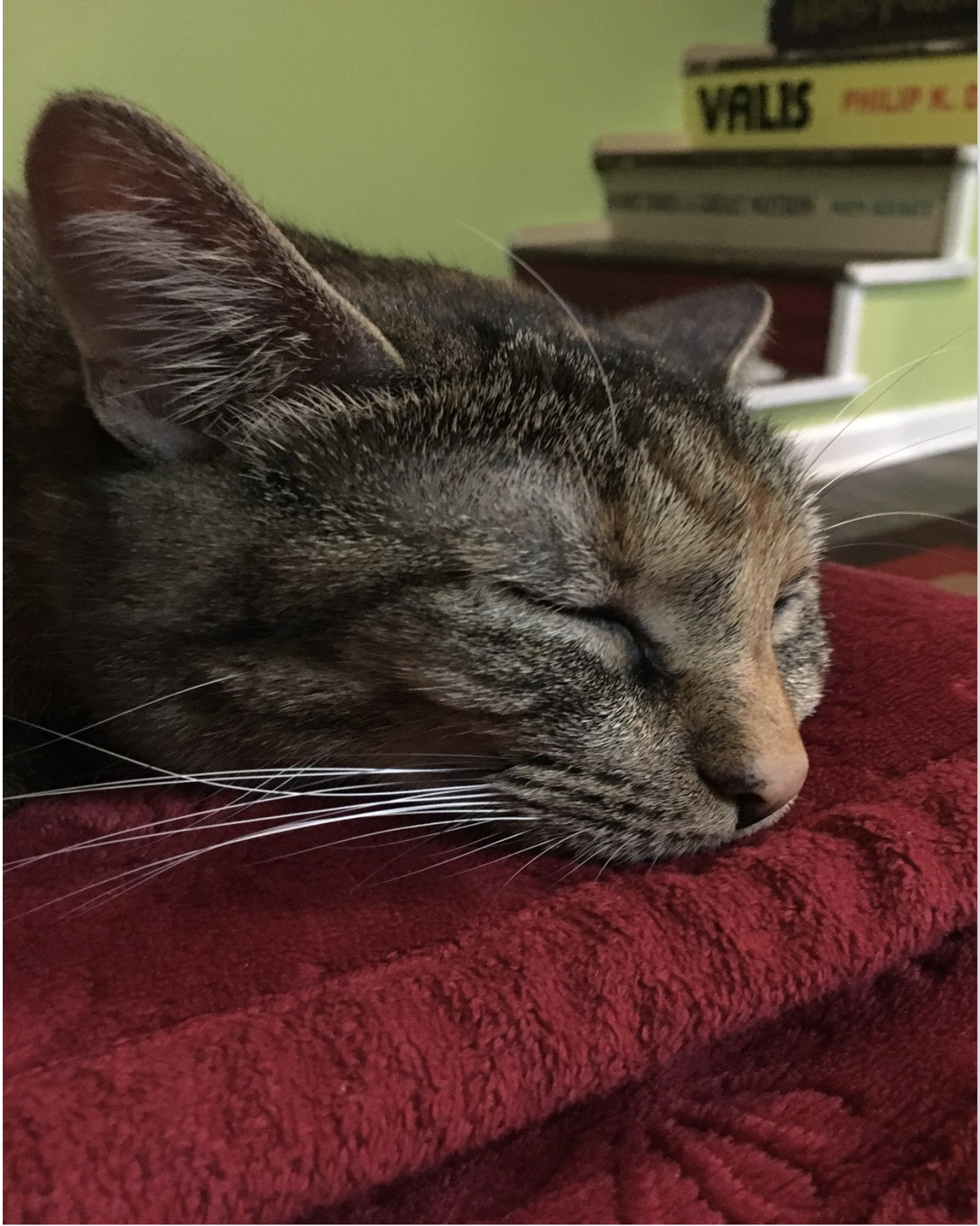 Upon our family's return from St. Louis several weeks ago, our indoor/outdoor cat, Whiska, barely rubbed our legs before bolting outside. She excitedly dashed between the yard and the house multiple times as we carried in our luggage before reappearing, yowling with joy, as something tightly clamped in her jaw muffled the sound. Although the commotion was confusing at first, it was soon revealed to be a struggling and squawking bird...a bright red cardinal to be exact. My husband, Bill, who comes from a long line of St. Louis Cardinals fans, looked admiringly at the feline and fowl, commending our huntress for the appropriate welcome home gift. I reminded him that no matter how fitting the offering was, it was still Indiana's state bird.
Our daughter shrieked as she accidentally let the pair into the house and we scrambled, blocked and finally ushered both gift giver and gift out of our home. Whiska communicated through a series of guttural declarations and yips across the screen door that separated us, looking from us to the now inanimate creature on the step, her confusion apparent to those of us standing in the kitchen. Bill praised her for her generous token, and I grabbed the disinfectant cleaner.
As I wiped down the floor, cabinets and walls, I pondered my reaction as a vegetarian and pacifist to the frequent lifeless bodies left on our breezeway step. Countless bunnies, tiny shrews, and a wide variety of birds were out next to the newspaper to greet us many mornings. Sometimes an unexplained larger, more interesting creature -- like the opossum that was not actually playing dead in our yard -- appeared. The mysteries of our slightly feral and fierce feline were vast. Somehow I managed to view her with wonder instead of disgust, cleaning up her sometimes messy contributions.
Whiska's gifts, though non-traditional, were from the heart. Educating myself on what they meant was half of the battle. A quick internet search on
The Spruce Pets
website for why cats leave dead animals for their owners revealed, "...when a cat brings you an animal they caught, be it alive or dead, they consider you a part of their family." She considers us part of her clowder.
My mind drifted to the gifts I have received from students over the years, sometimes equally as foreign and in need of translation:
The gift of conversation after a student had refused to do so for hours

The gift of a paragraph written after the student learned how to use word prediction software

The gift of a classroom discussion after the student was shown how to access and read audio text
...the list goes on and on.
Not all gifts that we receive, or give for that matter, are apparent to others. Much like Whiska's expression of gratitude for the environment we have provided for her, universally designing a classroom to make sure every student feels as if he or she belongs, has been thought of and nurtured can only lead to larger feelings of community and acceptance.
We, as educators, are repaid for this conscious effort through student participation, work completion, further education, boosts in student confidence and smiles...which are my favorite. Thankfully students, unlike felines, rarely give back the gift of a dead bird.