There's an amazing man by the name of
Nicola Dutto
. Nicola is an off-road motorcycle racer, and a very good one! In 2008 and 2009, he was a European Baja champion. Then in the 2010 Italy Baja race, he experienced a disastrous high-speed crash, leaving him paralyzed.
Anyone who knows a racer, knows that racing is a powerful thing running through his or her veins…a drive and passion that cannot easily be dropped. Nicola was no different and set his sights on racing again. After 9 months of intensive therapy, he entered the 2011 Baja 1000 in a 4-wheeled vehicle. Mechanical failure kept him from completing this race, but he also learned that 4 wheels just didn't do it for him. He greatly missed having the command of a 2-wheeled machine.
The subsequent steps of this story are the pieces that really grabbed my attention
.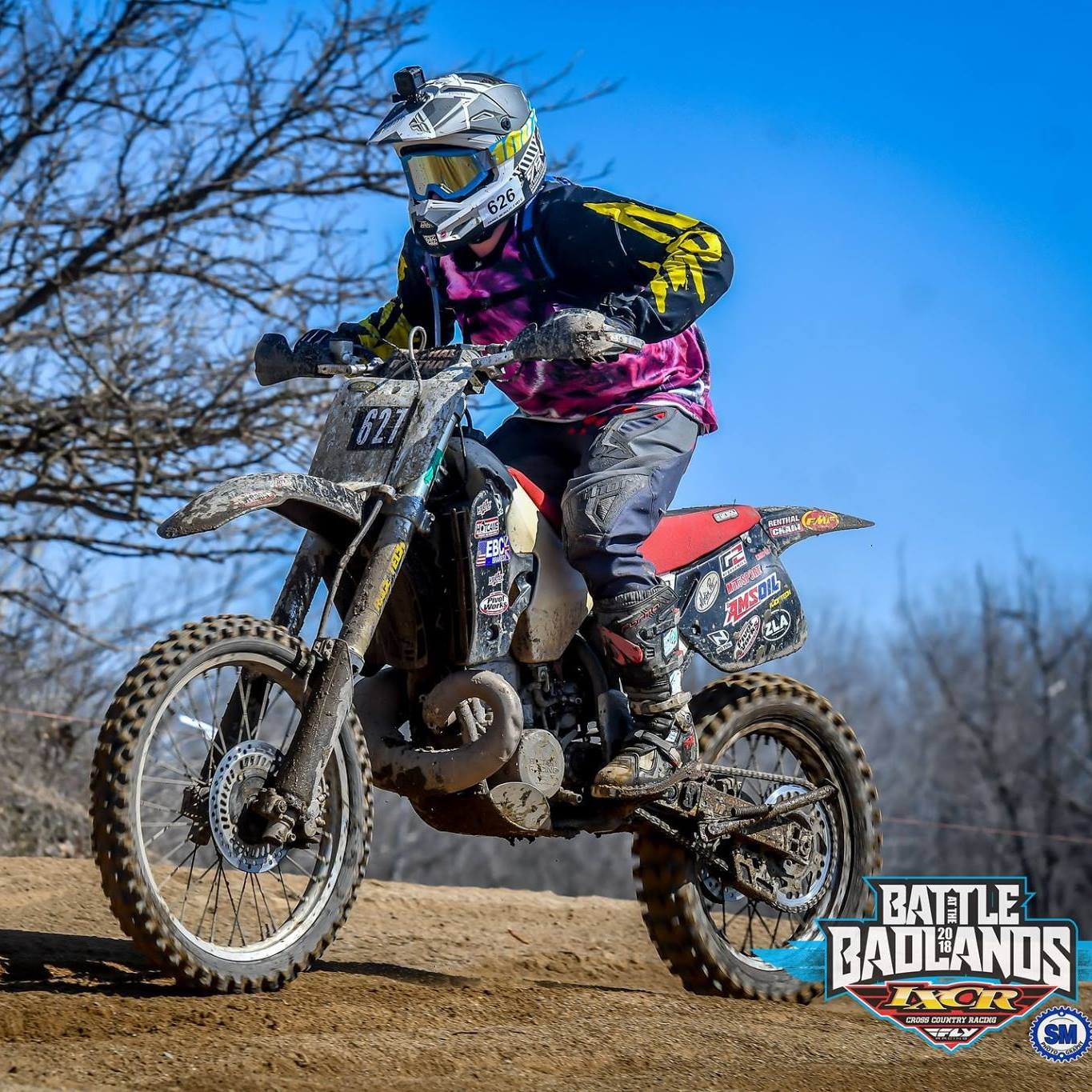 Noteworthy, is the fact that Nicola admits to being terrified to ride again! He knew that his soul
needed
to ride again. Nevertheless, he wasn't shy about the fact that it
seriously
frightened him! As an off-road rider myself, I know that I'm slightly terrified every time I grab the throttle. I also know that the majority of the time I'm riding off-road, I'm actually standing up on the foot pegs,
not seated!
A lot of steering, control, and weight distribution happens with your legs. They also act as additional shock absorbers and, of course, rear brake control and shifting all happens with the feet! To even begin to comprehend racing at the level of Nicola Dutto while remaining seated the entire time, with no use of my legs, is beyond intimidating!
Nonetheless, Nicola did it. He placed 24
th
in Spain's Baja Aragon race to become the
world's first paraplegic pro racer
just 4 months later and then…he set his sights on becoming the first paraplegic to race the world-legendary, white knuckling, and grueling
Dakar race
! While I love riding and racing, what truly excites me about this is the
passion, determination, skill, creativity, and support
of Nicola and his team tackling this
together
! He needed all handlebar mounted controls, a special seat from a wheelchair cushion specialist, a roll-cage for his lower extremities, and a 3-point harness to hold his legs within the cage, and this was just the necessary hardware ingenuity!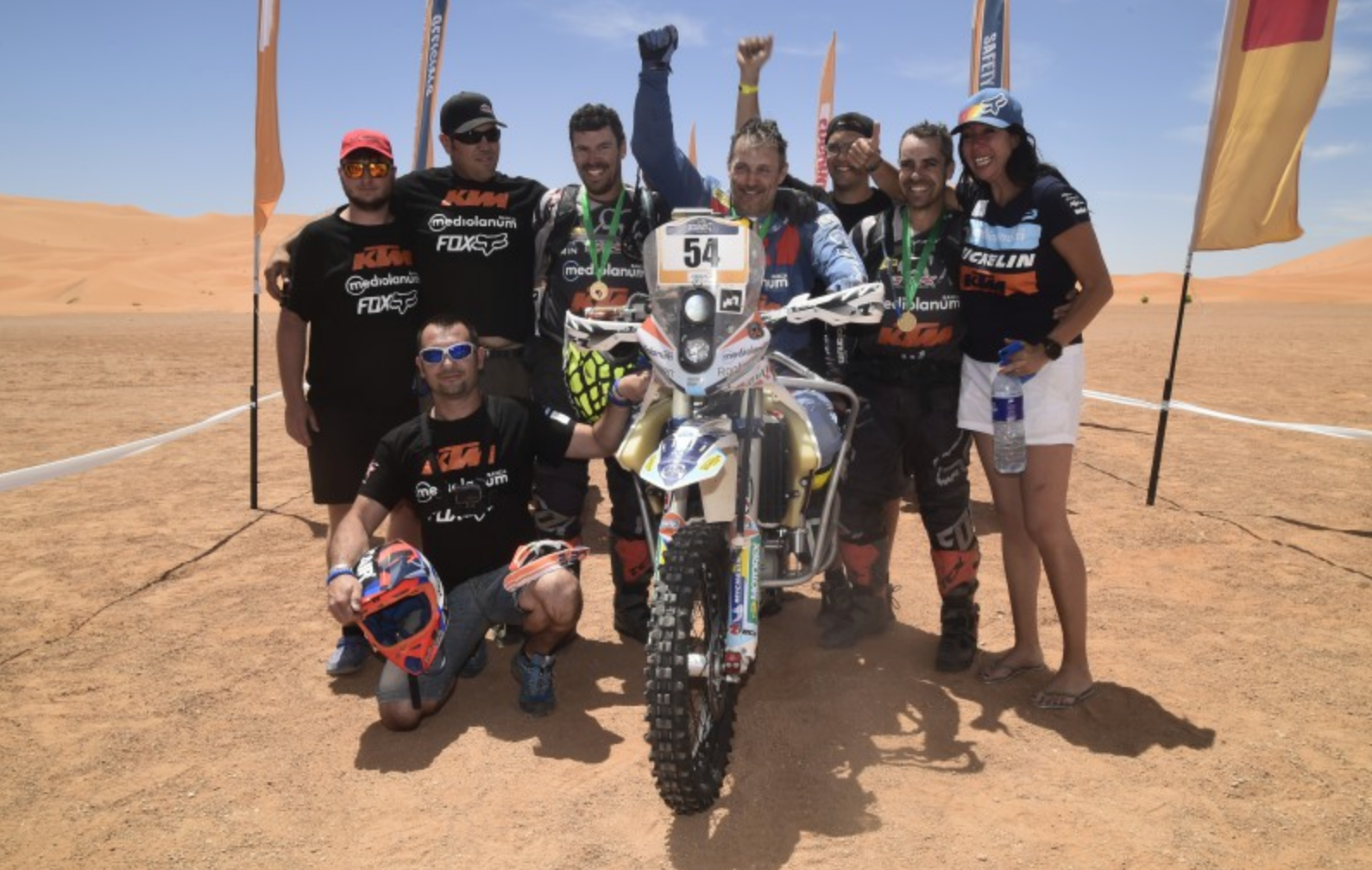 Nicola also needed "ghost riders." People to ride ahead and scan the terrain, helping him choose racing lines, since he would be unable to stop his motorcycle. He also needed two riders behind him to right his bike in case of a fall (which happens a lot to me). In short, Nicola truly relied on his team in many ways. The Dakar race would simply not be possible without his team's collective brain power, physical dedication, and willpower.
He needed them and they quickly rallied around his determination to make his dream a reality.
Nicola states that it's difficult to even describe how he now has to ride and that it required a lot of practice for him to become proficient with the changes.
While I could read and write about motorcycling for days, what I love even more about this story is the
camaraderie, the support, the teamwork, the passion, and the determination
of the
team
! The
PATINS Team
embodies all of this in my eyes! This PATINS team of incredible people bring their respective expertise together to accomplish seemingly impossible feats for so many Indiana students every week! This team pulls together to get students
physical and cognitive access
to their curriculum, to put
communication systems
in place for students who are non-verbal, to create
emotionally secure
learning environments, to
support teachers
who feel like they have a "Dakar" race to complete without the use of their legs, to
convey information
to students who cannot hear it, see it, or organize it. …and this inspiring teamwork happens every single week, all year long!
Many of you are also likely part of a team who rallies around student's strengths, desires, and goals. Frequently, you invite the PATINS staff into your team for further support and we are so grateful for those opportunities to help assist your kids! When we consider all of these things that our teams work to accomplish, one word presents itself prominently;
accommodations
!
Nicola didn't want to compete in a
different race
, he wanted to face the same demanding Dakar experience as other racers who were not paraplegic and he needed some creative accommodations and hard-core resolve to make it happen! We have
so many
students in Indiana who are fully capable of and desiring to take part in the "Dakar" of their educational experience…to meaningfully participate in the general curriculum and obtain a high school diploma,
with appropriate accommodations
both in the daily classroom and on assessment! The race is the same race, the content is the same content, the diploma is the same diploma, but the
ways
in which it is approached, interacted with, and responded to could vary! Taking away any
one
of Nicola's accommodations would almost certainly guarantee his non-participation. Similarly, taking away any
one
appropriate student accommodation will almost certainly exclude them from the most meaningful participation in the general curriculum, and effectively, from a diploma.
As Case Conference Committees (CCC) come together to build effective Individualized Education Programs (IEPs) for students, they must rally together as a focused, insistent, creative, and purposeful team! Each student's strengths and barriers must be analyzed. Potential software, hardware, and strategy-based solutions must be trialed! Remember you can always borrow from the
PATINS Lending Library
and
seek support, training, and development
from the PATINS Team! Data from these trials must be used to determine appropriate and effective accommodations in each and every IEP! These accommodations must then be implemented with fidelity on a
daily basis
(the extensive practice necessary to become proficient), and
on assessment (the Dakar)!
I don't anticipate losing the use of my legs, or my arms, but if I ever do, I'd certainly be grateful for and reliant upon a team of passionate, hopeful, creative people around me, figuring out how to get me back on a motorcycle as quickly as possible! Figuratively speaking, unfortunate things happen all the time which, on the surface, appear insurmountable, and take our "legs" out from under us. The riding of the "motorcycle" seems like a lost cause many times. These are the times when we need our teams, and students need their teams, to
match
our/their
determination
, to be the
most creative
, and to be
brave
enough to believe with all their heart that the impossible only seems as such because no one else has done it
yet
. It's
hope
that these dream teams construct! Before Nicola Dutto and his team made racing in the Dakar as a paraplegic a reality, many thousands of people likely didn't even possess a construct for hope in this regard.
Be a constructor of hope in your team! Be the determination who thinks and tries things for 10 minutes longer! Be the creativity that encourages possibility. Be the strength that "picks the bike up" for a teammate every time it falls!