We just recently wrapped up our first #patinsicam Twitter chat, 6 week cycle on the Basics of Universal Design for Learning (UDL). When the question, "Which UDL principle do you find the most challenging?"...the majority vote was not surprising at all: ENGAGEMENT.
This made me reflect as to why engagement poses to be the most difficult in teaching. After all, we can engage with people easily on a daily basis and also engage ourselves. We share conversations, we tell jokes, we laugh and smile, we listen to music, we enjoy our hobbies, we may read for pleasure...all for engagement.
We are engaged because these are things that are relevant and meaningful to us. We aren't focused on our weaknesses but using our strengths and interests to enhance fulfillment of our lives, which results in applying these experiences to increase our own intelligence...naturally. It's not even something we think about, it just happens.
A coworker and I have often pondered about the intense level of engagement in video games. We have thought that if as teachers, we could change our mindset like that of a developer of video games, engagement may be a piece of cake. What IS the secret key they hold that will naturally lead young people to sit for hours in front of a monitor, take breaks and stop when they need to, be driven and take self initiative to be successful in the game? NEWFLASH! Video games are universally designed and player centered. Are our classrooms, instructions and materials universally designed? Are they student centered?
Well folks, I have to say that recently- I happen to be at the right place, at the right time. After all of these years of pondering the draw to video games...I had a young man eloquently describe his occasional video game dabbling. This is how it went:
Boy: "I feel dumb sometimes."
Me: "What? Tell me more about that."
Boy: "Well, school doesn't come easy to me like it seems to for everyone else. I have to study all the time to even get smart and I don't feel like doing that all of the time. My mind races because I'm so focused on getting the good grade, that I start forgetting what I learned and then make mistakes"
Me: "So, how do you cope with that? What do you do?"

Boy: "Well, I started wearing earbuds and listening to music while I do my math homework. It keeps me from overthinking the problems and then I just do the problems right without even thinking really."
Me: "Oh wow, that is such a great idea! I need to do that! I overthink all of the time."
Boy (laughs): "Yes, it really helps. I don't even think about the grade. I just enjoy my music and working math becomes easier."
Me: "What makes you focus on the grades so much that you actually get stressed out?"
….and then this is when my teacher lightbulb came on and shined brightly with confirmation after the innocent, perfect "rant"...
Boy: "School seems to be ALL about the grade! It's so stressful and so focused on intelligence. When someone doesn't feel so intelligent, how can you even survive? There is so much more to us than how smart we are! If school was like most video games, we'd all do better…."
Me: "What do you mean "like a video game"...?"
Boy: "...I feel as if we are just seen with how much intelligence we have. They are forgetting the other qualities of us that build us as people! We have strength, agility, luck, perception, charisma, interests and endurance. In certain video games, you build your own character and the better you perform with ALL of your qualities, the more intelligence you build. You have to have all of those qualities to become more intelligent in video games. As we go through school, we are just focused on gaining intelligence and teachers forget about our other qualities. Some of us may have high intelligence and some of us may feel like we don't. This makes us feel completely unbalanced which affects everything else."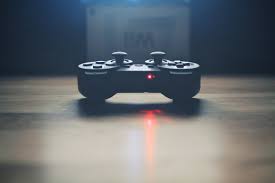 I heard a keynote speaker once say, "
We don't have to teach kids curiosity...they came that way. We have to NOT take it out of them!" Let's make our students feel BALANCED inside of our classroom. Let's teach with relevance, meaningfulness and then naturally ENGAGE. Let's get to know our students and build upon their strengths and lessen the load of heavy feelings of weaknesses. Have them actively participate in their own goals, no matter how big or small. Let them self monitor themselves by using tools like
https://www.futureme.org/
Let's bring their interests into our teaching.
Need suggestions on how to make that happen? Give any of us PATINS Specialists a shout!
Now...
Go forth and teach like a "Gamer."