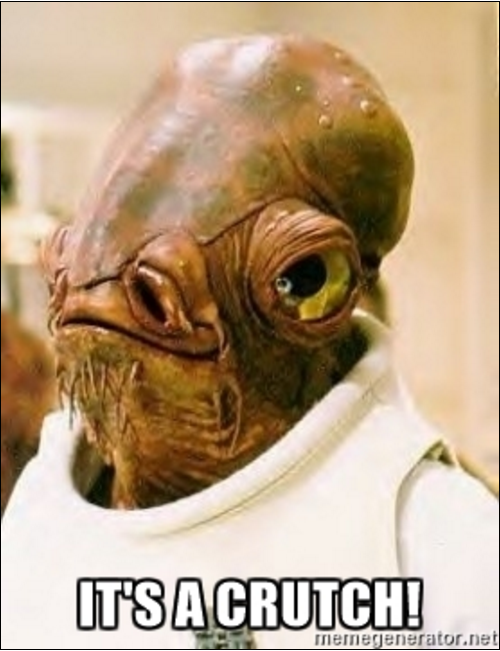 "It's a crutch! If we let students get by with listening instead of reading, how will they ever learn to read?" This or some similar phrase has been heard or said by many of us. One word in that quote jumped out at me. Crutch. When did that become a negative word? It's a noun, not an expletive! What is so bad about a crutch? Crutches allow people to walk unaided who would otherwise need assistance. If a student has a broken leg do we want them sitting around doing nothing until it heals? What if it doesn't heal? Is that it? Are we going to tell them to sit there while we place things across the room for them that they need and then fail them for not getting up to get them? The organization
Crutches 4 Kids
describes the reason for their work, "
Crutches help children access school giving them the opportunity to learn and become productive members of their communities.
". Their slogan, "A Pair of Crutches Changes Everything" is just as applicable to us as educators.
Using assistive technology to read digital material to a student has many titles. Among a few are: Audio Supported Reading, Auditory Learning, Text to Speech and Reading by Ear. What this refers to is having the words read out loud with the support of highlighted text.
There is a history of Audio Supported Reading use in conjunction with braille to increase the speed and accuracy of reading in students who are blind or have low vision. New research is beginning to show similar results for students who are struggling readers. By scaffolding a student's ability to decode difficult words they become capable of decoding the meaning behind the text faster. This leads not only to greater comprehension but increased concentration and motivation. Through the use of
Don Johnston's uPAR testing software
some of the PATINS AEM Grant Teams were also able to see a change in the comprehension level of their students over time who had access to Audio Supported Reading as a part of their reading support. This is so exciting!
Let's talk UDL! What was once a negative is now a positive. In the past it has been hard on teachers and students when assistance has been given to one student but not all others. Who hasn't heard, "Why does he get that and I don't? I want that too!" and "I don't want to look different." Audio Assisted Reading has many plusses for all! For instance: You want to assign your students research on the process of presidential elections. The articles on the internet will contain words that not all good readers will understand. This is the point of learning. It is supposed to contain some things that are new to you! By using a text reader for some of the more difficult words, a student can avoid skimming over them and missing the deeper understanding of the topic. I used it to read the CAST article cited below. It helps me concentrate and read slower so that I can focus on the content and meaning instead of just finishing the article. I also used it to read this blog post out loud to me to help proofread.
Research:
The following article is a good beginning for understanding the basis in research and Education Law for the use of Audio Supported Reading:
Another good read on this subject can be found in this 4-part article.
http://www.readspeaker.com/does-text-to-speech-technology-help-students-learn/
Some of my favorite crutches are:
There are many more, including some that come standard as a part of the computer or tablet!
Some internet sites have it built in. Look for symbols like these: