It has been more than 3 years that I blogged, "Mimi, would you read me this book?" It was about my wife Rita and our 5 grandchildren.
Here is an excerpt:


"We have 5 ranging from 6 years of age down to 6 months. From a very early age, Mimi would "read" picture books to each one. It only has a picture and is wordless, but she would describe the picture in a way that would tell a very short story. As each one has grown older, she would ask if they would like for her to read to them. "Bring me a book," she will say if they don't already have on in hand. She has never been turned down. ore often than not I hear, "Mimi, would you read me this book?" You should know by now that the answer is an overwhelming "YES". It is a blessing to watch how she draws our grandchildren into her world, no their world. So, as I watch this miracle happen, I take pleasure in
fact
that undoubtedly my grandchildren have found the importance of reading and I have as well. What a precious gift to pass on."
Jump ahead 3 years and the age range is now 9 to 3 and a half. It has been an amazing look back and where the 3 oldest are now after attending school.
Dean just finished third grade, Logan just finished first grade and Kenzie just finished kindergarten. What is noteworthy is that all 3 read at or beyond grade level and they love to read.
What I wrote about 3 years ago has come full circle. Their enthusiasm for reading has been expressed in a reciprocal way to Mimi. What once was "Mimi, would you read me this book?" is now "Mimi, can I read this book to you?"
She never turns them down.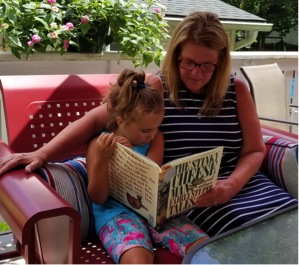 We take great pride in listening to them read. It goes without saying that what my wife sowed for our grandchildren 3 years ago has reaped tenfold.
Mimi has not given up reading to our grandchildren. We still have Hazel and Ethan that like to be read to, and it is still enjoyable for Mimi and me when we hear, "Mimi, would you read me this book?"