Do you remember the days of paper road maps? We would drive with one hand on the steering wheel and hold our maps with the other. Sounds safe, right? I have no clue how I even got around in this world due to my lack of proficiency of map reading and directional self guidance. However, I always ended up exactly where I was supposed to be or at a place I didn't realize I was supposed to be at the time. It was always an adventure to say the least and moments unveiled that mattered.


I recently went on an epic road trip. One with no agenda but 7 days to spare and a direction chosen...west! Eight states later and over 3800 miles traveled, my words to describe the moments, views, wildlife, adventures, laughs and fun would never give this road trip the justice it deserves. Now, knowing that my navigation skills could use some serious work, I heavily relied on my Google map for I had no idea where I was really going but prepared for the journey. Open road. Open mind.
This was all new and unfamiliar territory but I have a passion for adventure and traveling and was confident that I would figure it out...and I did. During my miles on the road, I realized that I cannot solely rely on technology for navigation and must have a basic understanding of direction. I discovered that challenging myself led me to spectacular views and experiences. And, it was an opportunity to strengthen my weaknesses where I struggled. I am a better traveler now and left a smile with all of those whom I met. I feel pretty darn good about it.
When I returned home, I was unpacking and settling back in. I removed my bedsheets from the dryer and thinking about my unforgettable trip. I folded the top bed sheet and then out came that dreaded fitted sheet. Does anyone really know how to fold a fitted sheet??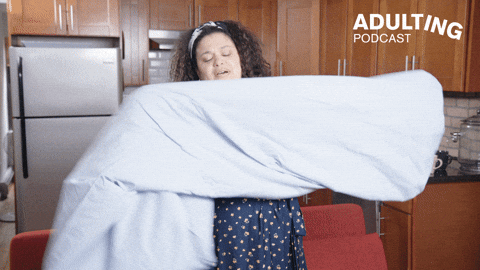 I have 2 ways: 1. The rapid roll up with both hands and smashing it down to make it as flat as possible. 2. Making it into the best square shape I can and again, smashing it down as flat as I can. After getting back from such a laid back trip, I laughed at myself and thought, "Does it really matter that I fold this sheet perfectly? I mean, afterall, the goal is to make the bed or make it fit in a drawer...and I can do that everytime!" I had developed a refocus.
In the new way of virtual education that we are now experiencing, there have been so many unknowns, fears and "I have no idea how to's"...including what the upcoming school year will look like and how we prepare. Some of you have probably even second guessed your career.
Let's face it, it has been new and unfamiliar territory. Look at you now! You are doing it and still figuring it out as you go! You have most likely found the most professional development that you have been able to in a very long time…recognizing weaknesses and turning them into new strengths!
New discoverings have been made and new skills that make us better educators due to the unexpected transition from brick and mortar to virtual classrooms. The strengthening and use for accessibility has been in the forefront for students which may have not been valued for student independence and access in the past. A refocus has been developed.
You have had to refocus from the idea of the perfect classroom set up to just "folding it" the best you can because the goal is educating...and you can do that everytime. I celebrate you! ?
From paper maps to Google maps...from fitted sheets to making a bed...from four walls of a classroom to virtual learning...we figure it out. You are an educator. You are here because you have a passion for teaching. The goal is to educate...and again, you can do that everytime. Be confident in your abilities, resilience and open your mind to current challenges and those that may lie ahead. You won't know until you get there, but you can figure it out and the PATINS staff are on your team to help with the navigation. Open up to the journey. Breathe.