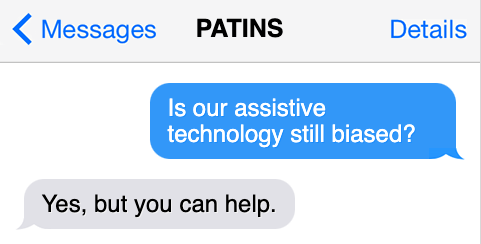 Over a year ago I shared some thoughts about bias in assistive technology: technology was created by humans, so the technology has biases. Biases hurt humans, but humans have the capacity to fix it.
Not surprisingly, some things have changed since I wrote it! There have been small steps towards a more equitable and representative access for all. In 2020 we hadn't had a single synthesized voice option for Black Americans, and the first one, Tamira, was developed and released earlier last year which is now an option for many Augmentative and Alternative Communication (AAC) software programs.
Also not surprisingly, we have a long way to go.
When someone mentioned to me that we now could finally have Black AAC users with a representative voice, I had to stop and think for a moment.
It's a start, but that one voice is one attempt to represent a diverse umbrella of accents in the United States. That voice alone can't accomplish all that needs to be done to have a "representative voice" for Black American AAC users. For example, when you look closer at the language in most of the robust software for AAC, you notice the bias: you can't conjugate sentences properly in African American English (AAE). In some software you can say "he is sick" but you can't say "he be sick" which is a common linguistic feature of many varieties of AAE. The "habitual be" in some AAE and Irish varieties, for example, shows the difference between being sick once or habitually being sick. I can't conjugate "ain't" or say "finna." The word prediction doesn't predict the correct grammar or vocabulary of AAE.
"Of course not. We don't want them to sound uneducated."
Oh yikes. Or as many would say in the Midwest: "ope!"
Prescriptive grammar, the idea there could ever be "the right way" to speak a language, is still a prevalent bias in education and assistive technology. As a speech-language pathologist, there is a lot of harm to children and families by describing a linguistically valid way of communicating as "uneducated" and not representing it properly.
We want all students to be able to sound like their community. There is power in knowing how to communicate in the way your community expects (or to defy the rules, as you choose). To know the very words you say tie you to your family and generations of history is like having a bit of your ancestors in every sentence. We still haven't created technology that allows that for every person, only some, and that's a problem.
As perhaps some English speakers could have said 900 years ago:
Englisc meagol witodlic un−l¯æd fâgung (very roughly translated to Old English: English is strong because of its variety).
It's said that addressing bias is a lot like tending a garden, not winning a race. You put in a lot of sustained effort and you might see a little growth. Sometimes you don't (yet). When you've addressed the bias you notice, give it a few weeks, and then your work and effort will be needed again for something you never noticed before.
It's the garden worth tending to as we have a lot of human potential to grow.
Resources:
Do You Speak American? from PBS
Contact a PATINS Specialist on how to incorporate your student's language(s) and dialect(s) into their communication system.

PATINS also has a webinar on "Culturally and Linguistically Representative AAC" that any Indiana PreK-12 stakeholder can request live. Email me to schedule it at a time that works for you.