In addition to serving as PATINS specialist for blindness and low vision, I am a part time flower farmer. My husband has a full time job off the farm as well, but between the two of us, our daughter Grace, and another part time employee, we grow, cut and assemble 70 - 100 bouquets/week to sell at an Indianapolis farmer's market. Roger makes the dirt fly, and I cut and assemble bouquets. Every week I get to design with a new palette of colors and textures as different varieties come in and out of bloom.
Right now, in the technicolor heart of July, we have the most variety, from the cool blues of forget-me-nots and cornflower to brilliant coral zinnias. We have found that certain combinations sell every week, so we assemble what we call "The Rainbow" and "The Rhoda" (named for a former employee) every Friday evening. They sell, but they've become boring to make after many years.

The Rainbow and The Rhoda: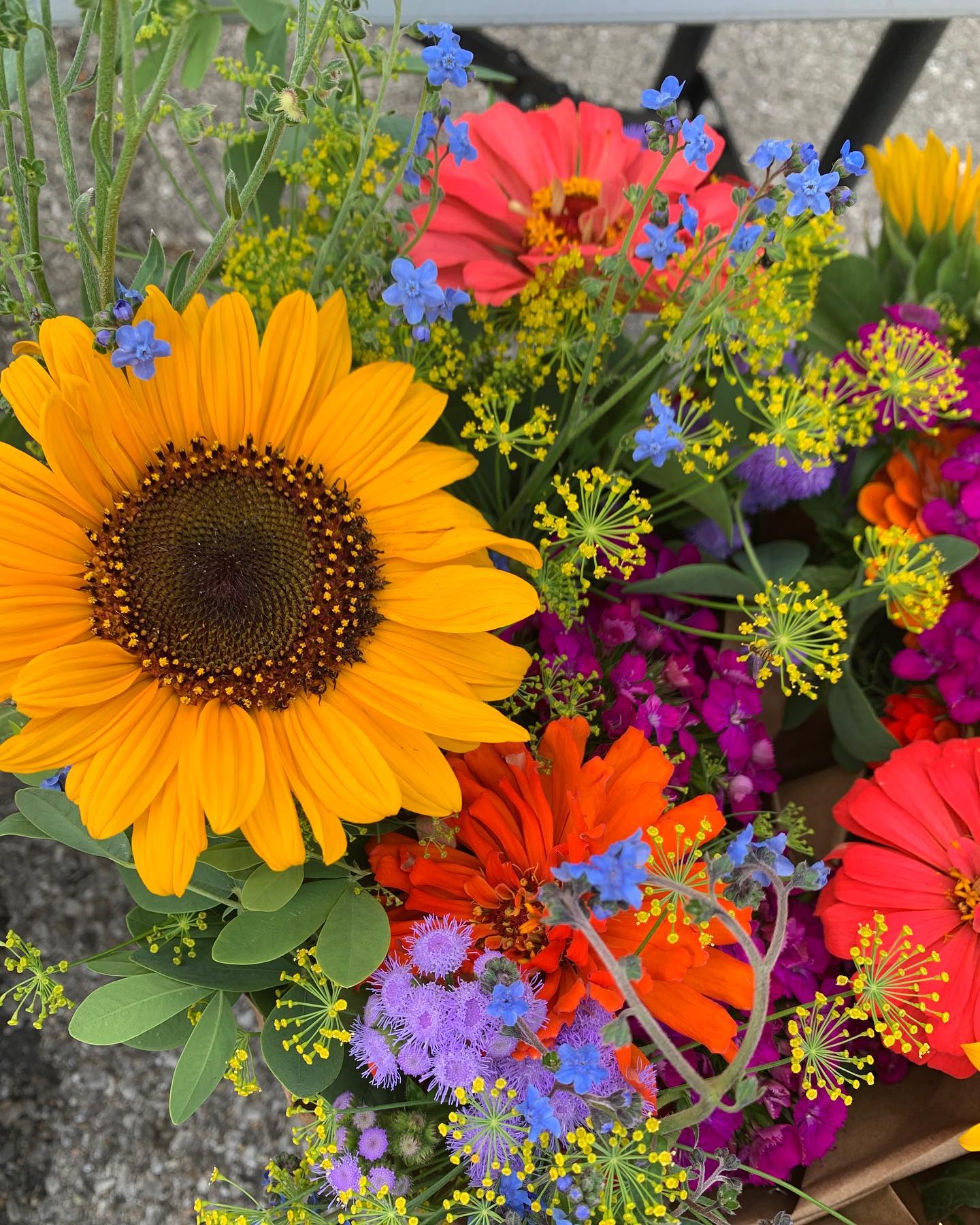 We make these standard sets, then we turn our creativity loose and play with the colors. After many years, I'm realizing I have certain biases in what I will and won't use together in a bouquet. I've never been a fan of putting a lemon sunflower together with a gold one--although others in the crew do this, and the flowers sell. Same with coral and burgundy. Just writing this down makes it seem pretty ridiculous, unless you consider the science of color and perception.
I've been trying to push past my color biases this season by intentionally putting together things that don't appeal to me. Here is a set I did last week: I like orange and blue together, but adding the dark red/brown foliage was difficult. I desired to add a sunflower, but I'm working on moving away from that requirement. I wanted those delphiniums to get noticed!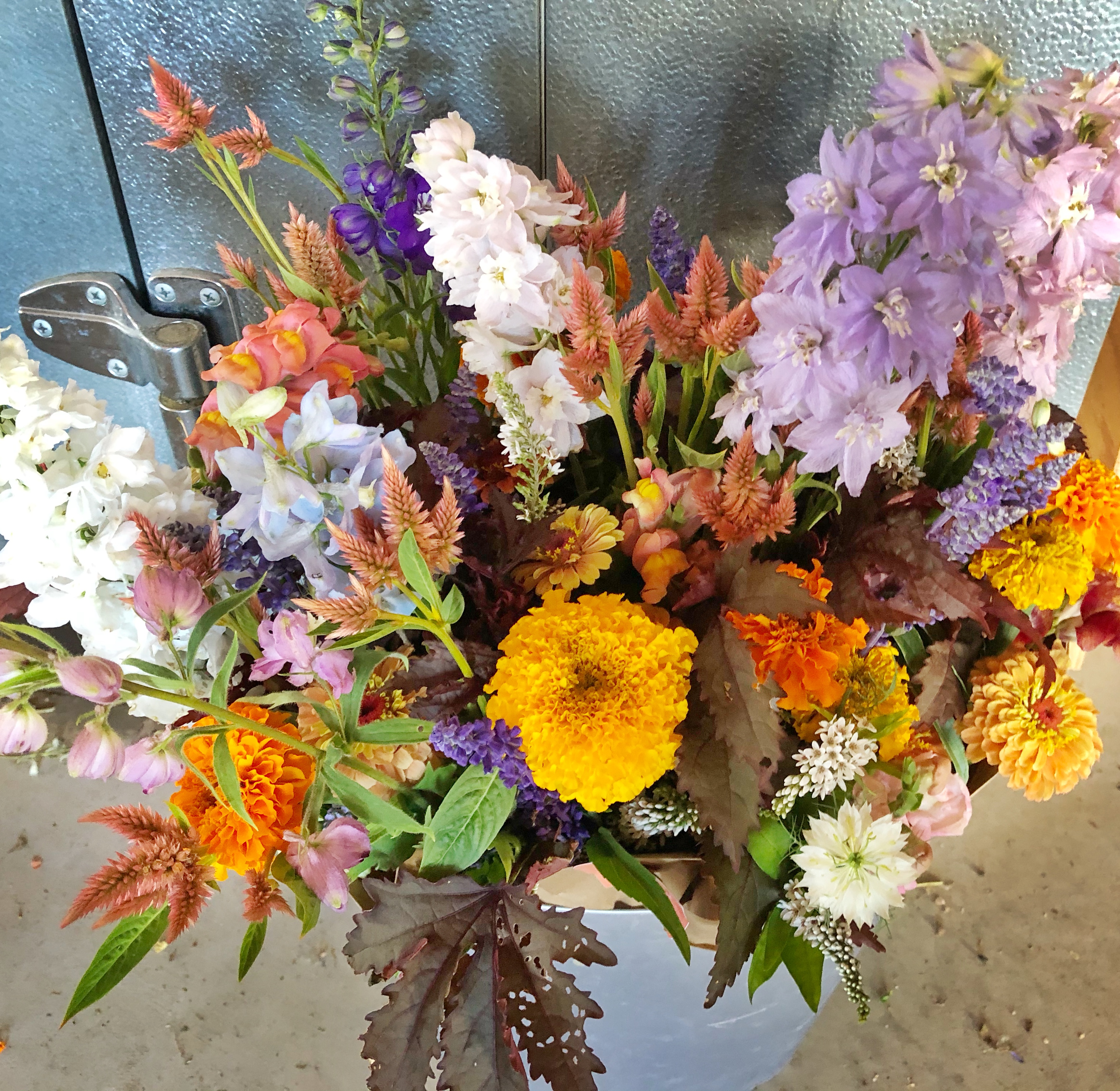 As I disengage my color autopilot, I hope I'm uncovering all of the crazy rules that I've accumulated for shades and combinations. I don't want to miss any possibility of beauty because of my bias.
Have you been examining your biases lately? It's hard to accept that we have any kind of unfairness expressed in our brains subconsciously, but we all do--a part of being human and big-brained. If you want a glimpse of what yours might be, you can take a series of online tests. Knowing what your subconscious is doing humbles you, but might also transform you.
When my colleague Jessica posted this blog about bias built into assistive technology I had a scales-falling-from-my-eyes moment that made me want to just lay down and cry. I had a similar sensation when I listened to this podcast about the watershed legal case Brown vs. Board of Education, and the shameful racist history I had never learned about my profession, and its impact today on the field.
When my daughter Grace got married we, of course, did all of the flowers. I kept trying to pin her down on a color scheme. She had just come home from a year of study in Ghana, and from that influence told me in her best Ghanain accent, "All of the colors are welcome." She's human and also has biases, but her bouquet creations are varied, bold and spectacular.
At PATINS we welcome all, and want to break free from any racist biases we may have and serve all. Here is our recent statement to that effect. We hope that you will join us in this work, and hold us accountable to these words.