Thanks Harry!
Here it is, time for me to blog. It is my understanding, that as a PATINS blogger, I am to reflect on those things in my specialty area. For me as the ICAM Technical Specialist, it involves getting material from the NIMAC, Learning Ally, how to deliver digital content and what to do when it just doesn't seem to go as planned.
Anyone who has followed my other blog postings probably didn't absorb much of that content. I prefer to be a little more whimsical in my writing. I enjoy sharing more on a personal note just because it's my blog!
On Easter Sunday, we had the whole family together consisting of my two daughters, their husbands and my five grandchildren.
We enjoyed the traditional stuff that we have always done like an Easter egg hunt, Easter baskets, a big dinner, etc. Everything went off without a hitch.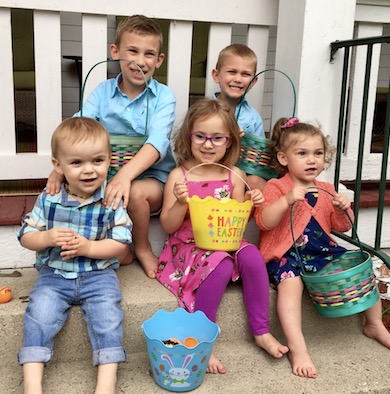 What was different about this Easter was the interaction and independence of the grandchildren. Ranging from one and a half to seven, each had a very different way of experiencing the festivities. Sure, age had something to do with it but it was how different each one got to the same or similar level of enjoyment.
What I noticed that day was even at the most earliest of ages, each child had their own way of discovering, sharing, cooperating, conveying their excitement and disappointment in ways that were not directed by adults.
What I saw was an unspoken use of Universal Design OF Learning. Each child using their own talents and not being told what to do be it right or wrong, but enjoying the moment.
This holiday experience reminded me of a Harry Chapin song Flowers Are Red. Some of the lyrics are as follows:
The little boy went first day of school

He got some crayons and he started to draw
He put colors all over the paper
For colors was what he saw

And the teacher said, "What you doin' young man?"
"I'm paintin' flowers" he said
She said, "It's not the time for art young man
And anyway flowers are green and red"

"There's a time for everything young man
And a way it should be done
You've got to show concern for everyone else
For you're not the only one"

And she said, "Flowers are red young man
And green leaves are green
There's no need to see flowers any other way
Than the way they always have been seen"
I am not the type to spoil the rest of the song, but I think it's worth listening to because it sums up just how to incorporate UDL into any classroom, as well as our lives outside of the classroom.
As I listen, I gotta say…Thanks, Harry!