Summer has come and gone for many students around the state, and it's back to school. New experiences, new friends, and new teachers. One must think of what each one of those students brings to the classroom.
That thought struck me this summer when we were on our family vacation. As with one of my blogs last year, I got to thinking about interactions with my grandkids as inspiration. This summer was no different.
My wife and I, joined by my two daughters and their families, have made it a tradition of going to the Outer Bank of North Carolina. It's warm, relaxing and a nice way to finish the past school year and begin the summer.
Each morning we like to pack up the kids and head to the beach for the day to play in the sand and surf. We encourage all five of the grandkids to play hard but take time out to rest when they get hot, tired or hungry.
This year, my oldest grandson, Dean, who is 7, took time to sit and rest next to his mom and chat. The sun came and went from behind the clouds and Dean started watching them. "Look, Mom, that one looks like a dog," I heard him say. Back and forth they went trying to figure out every cloud that passed by.
It wasn't long before Logan, my 5-year-old grandson, joined them. Logan listened to them describing what they were seeing. He would glance at the sky and squint searching for what they were observing.
After a couple of minutes, Logan whined, "I don't see it."
"Right there. It looks like a Pokémon," Dean said.
"Where? I don't see it," Logan replied.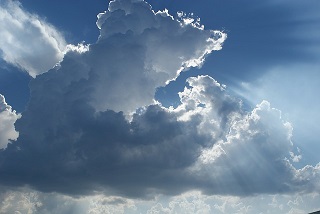 After listening to a couple more descriptions by Dean and his mom, Logan was on the verge of tears. "I don't see it," he said.
Dean tried to help and came closer to Logan and pointed to the cloud he had described. "See that cloud right there?" pointing to a large billowing one, "Doesn't that look like a dragon?"
Logan looked hard and said, "In the clouds? I see it now, I thought you were looking at the blue part."
It wasn't communicated to Logan that they were looking at the clouds. Logan had missed critical information as to how to play the game.
We have all experienced that situation at one time or another when that one key tidbit of information was missing and those around us just assumed we understood.
When we get that missing piece, it's been called that "Aha!" or lightbulb moment. Whatever you call it, it's that realization of understanding what was missing. For Logan, it was simply the clouds.
I have to wonder how many students come to school with just a few missing pieces here or there. It's our place to help them find them through listening, encouraging questions and watching facial expressions.
The reward is the smile one sees when that missing piece is found, and we've made a difference. I enjoyed watching my grandsons, Logan and Dean, that day as they sat for a while longer both having fun comparing clouds.