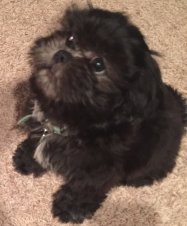 In March I brought home a shih tzu puppy!
Included in the care of a shih tzu is grooming.
The first time went well.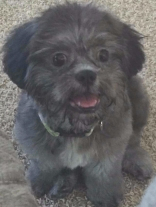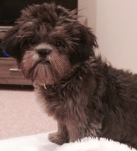 But it grew out quite quickly.

It was time to take her back and I had a few other requests.
Just a bit of a change.
Not much really... just keep the hair around her nose and mouth a bit shorter this time.
Not so much mustache and beard.
So, I took her to her 6 week appointment and I think I said just that.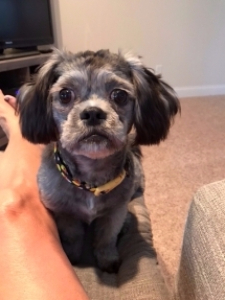 Obviously I had failed in communicating my request. I was disappointed. In my mind, I blamed the groomer. How could they have done this?
They took my puppy away. As I looked at my poor hairless baby, I reflected. How could I have made myself clearer?
This reminded me of when I would fail to teach something I was really passionate about, like weather. I would stand up in front of the class and give
some of the best lectures of my life. Full of energy, (hand motions are required) sound effects, (boom, crash, swoosh, zoom!) engaging anecdotes
(hold the camera still and be quiet)! Then I would give my students a lab that I thought they were totally prepared for and some would be, but most
wouldn't. I would be disappointed. Why didn't they learn?
We forget all the work that we have already done in our brain that we take for granted. I have taken numerous courses and had several extensive field
experiences. I have read and internalized all of the information that I will be providing them. I designed the entire experience. No wonder I would succeed.
So how can we be better guides for those who have not had this experience? Universal Design for Learning (UDL).
Universal Design for Learning tells us that if we want our students to understand and embrace what we are teaching we need to employ multiple means to:
Engage them - interest them in the activity.




Represent the information to be absorbed - facilitate different modes of communication to create understanding.

Action and Expression - allow for different ways to show that they comprehend the information.

So, let's UDL my next grooming appointment:
Step 1: Engagement - Upon entering the new groomer I will show them pictures of my dog before and after our previous appointment. We will brainstorm
ways that she could look cuter than she did following that last appointment. They will gain ownership of her hair care and connect with past knowledge
of shih tzu hair appointments.
Step 2: Representation - I will offer alternatives for auditory information. I will show them pictures of other shih tzus that I feel are very cutely groomed.
I will clarify vocabulary such as "teddy bear cut" and "beard and mustache" through pictures and physical manipulation of the areas prior to cutting.
Step 3: Action and Expression - I will break the assignment into manageable chunks. We will begin with trimming around her eyes and trimming her ears.
Once I am confident that we are communicating well I will continue with graduated levels of support to work towards a full grooming experience.
When we look at what we could have done, it is easy to see what we should have done. UDL is great in that way. We look at the barriers and the ways
that things could go wrong and place options into the lesson plan that take those barriers away.

For more UDL fun you should tune in to our Twitter Chats on Tuesdays at 8:30 pm. #patinsicam We always have great discussions peppered with
interesting points of view!

Until next time!