2016-17
May 2017 - GAIT LLC presents REST


Calm and soothe your students with ADHD, ASD, PTSD, etc with REST, a mechanical seat from GAIT LLC, that replicates a horse's gait. Learn more about REST on PATINS TV.



For more information contact:

Will Turbow
3815 Nall Ct
South Bend, IN 46614
847-707-9455
Email Will
REST by GAIT LLC Website


---
April 2017 - SPEAK MODalities presents the SPEAK all! AAC App



Help you student find his/her voice and produce speech with the SPEAK all! AAC app. Learn more about SPEAKall! on PATINS TV.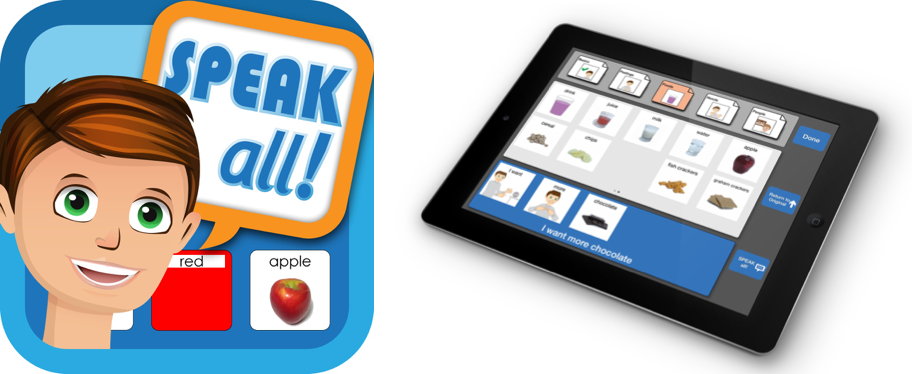 For more information contact:

Michael Zentner, PhD
PO Box 2139
West Lafayette, IN 47996
765-427-6962 ext. 2460
Email Michael
SPEAK Modalities Website


---

March 2017- INDATA Overview and Alternative Financing Program (AFP)
Alternative Financing Program Brochure
INDATA Brochure
Learn more about INDATA on PATINS TV.
For more information contact:

Brian L. Norton - Director of Assistive Technology
INDATA Project at Easterseals Crossroads
4740 Kingsway Drive
Indianapolis, IN 46205
317-466-2001 ext. 2460
Email Brian


---

February 2017 - Prentke Romich Company presents the PRiO with LAMP Words for Life
Product Flyer
The PRiO family of communication devices, running iOS operating system, complete with LAMP Words for Life language system. Learn more about the PRiO on PATINS TV.




For more information contact:

Beth Browning
5955 W Hurt Rd
Monrovia, IN 46157
317-364-0216
Email Beth
Prentke Romich Website


---
January 2017 - EYE can see, Inc. presents the RUBYⓇ 7 HD Magnifier
Product Flyer
The RUBYⓇ 7 HD Magnifier is the newest addition to the RUBYⓇ Family from Freedom Scientific. Learn more about the RUBYⓇ 7 HD Magnifier on PATINS TV.

For more information contact:

Greg Blackman
6117 N College Ave, #3
Indianapolis, IN
317-258-6747
Email Greg


---
December 2016 - Lectio presents its Spot Reader App


"Lectio is an assistive technology desgined for individuals with a language-related learning disability. Specifically, Lectio is a spot reader for students who have moved from learning to read to reading to learn. Learn more about Lectio on PATINS TV.

For more information contact:
Kris Parmalee
317-491-5051
Email Kris

---
November 2016 - Prehensile presents the RoboDesk

"Prehensile is committed to designing and developing the best assistive technology device integrated with human factor design to give every individual access to the most advanced and available technology in the market. While many of us are enjoying the advancement of new technology, these technologies may not be accessible to individuals with physical limitations or disabilities. We believe in the rights of all individuals to learn and live independently, work productively and socialize easily. Our motto is "no man left behind" in terms of technology accessibility."

The Robodesk is not yet on the market. Prehensile Technologies is in search of beta testers and early adopters. If you are interested in trying out this technology, please contact Prehensile. Learn more about the Robodesk on PATINS TV.




For more information contact:
Li Hwa Chong
2827 Grackle Ln
West Lafayette, IN 47906
Email Prehensile
Prehensile Website


---
October 2016 - Don Johnston presents Universal Protocol for Accommodations in Reader (uPAR)
Help your team make the right decisions on reading accommodations and help students perform their best in inclusion classrooms and during high-stakes testing. uPAR is the smarter, faster, data-driven way to assess students for reading accommodations. Learn more about uPAR on PATINS TV.


For more information contact:
Ruth Ziolkowski, President
847-867-4756 cell
800-999-4660 ext. 512
Email Ruth
Don Johnston Website

---
September 2016 - Cadan Assistive Technologies presents the RME EasiTeach Next Generation for Mac

Easiteach Next Generation is our latest whiteboard software designed to help you create and deliver motivational and engaging lessons. Compatible with any interactive whiteboard and soon to be available for use on other forms of hardware equipment used for teaching for example a range of wireless slates, voting systems and multi-touch tables, Easiteach enables users to create personalized lessons and resources from scratch as well as access a wide range of content that can be used or adapted to suit your own needs. Learn more about EasiTeach on PATINS TV.



For more information contact:

Jim Rogers
4131 Old Sibley Memorial Highway
Eagan, MN 55122
800-370-0047 ext. 561
Email Jim

---
August 2016 - CCS Presentation Systems a CIM Company presents the SMART Tabel 442i

The SMART Table is a social, inclusive and captivating collaboration tool that makes it easy to get young students excited about learning. It's a great way to enhance the social and academic skills of active learners and ensure all students can achieve success.

Active small-group collaboration - Up to eight students can learn together at the same time, interacting with activities on the multitouch surface.

Engaging, interactive content - Access ready-made content for early education from the SMART Exchange website. You can also create new activities using the SMART Table Toolkit or import SMART Notebook files.

Designed for the active classroom - The sturdy pedestal restricts tipping by even the most enthusiastic learners. The SMART Table can support 200 lb. (90 kg) on its scratch- and spill-resistant surface.

Accessible for all - The horizontal, 360-degree surface makes it easy for all students to participate, including students in wheelchairs or those with limited motor skills.

Simultaneous multitouch capability - SMART Table supports up to 40 simultaneous touches, enabling eight students to collaborate on lessons at the same time. It also supports simple, intuitive gestures like rotate, toss and zoom.

Free training and support - A wide variety of training and support options are available to help you get going quickly and start experiencing the full benefits of your SMART Table.
Learn more about the SMART Table on PATINS TV.
For more information contact:
Jennifer Marien
Director of Educational Services
Main Office (800) 742-5036 | Mobile (317) 460-1970
Fax (812) 376-3557
Email Jennifer

Erik Travis
Main Office (800) 742-5036
CCS Presentation Systems, a CIM Integration Company - IN, IL, KY, OH
1256 Washington Street, Columbus, IN 47201
CCS Presentation Systems Website