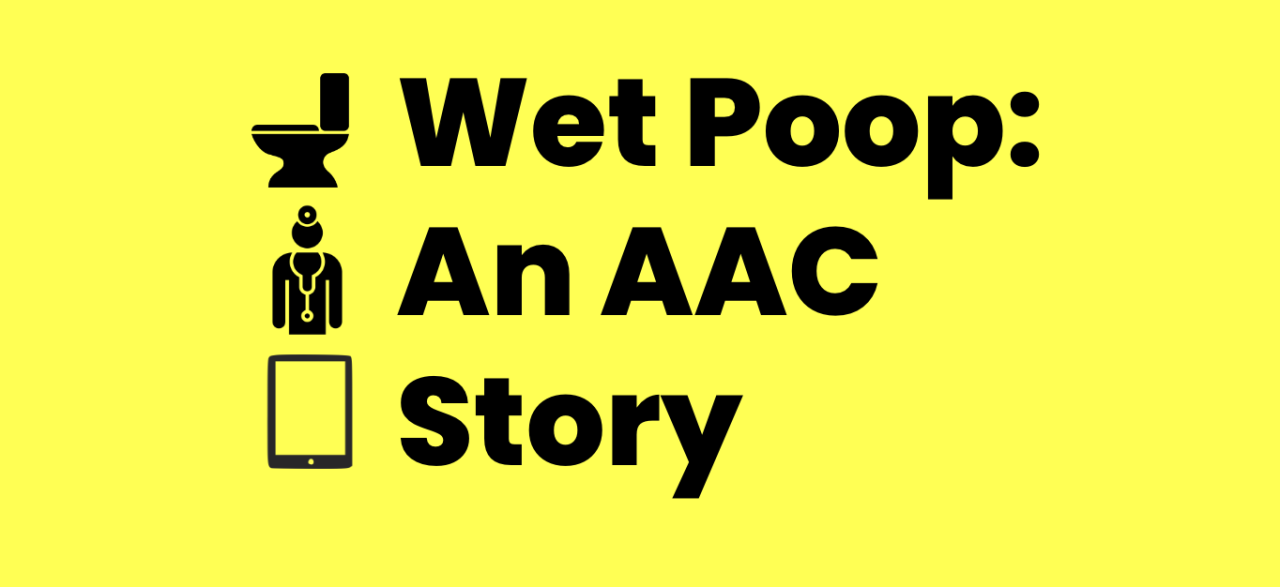 Content warning: this blog contains toilet humor, bodily function discussion, and the power and potential of every child.
It's not too early to call, but my favorite story of the semester came from an Augmentative and Alternative Communication (AAC) workshop I did in February. We were learning about all the greatest hits in AAC: modeling without expectation, ways to support literacy and comprehension, and being good communication partners. Someone always has a story to share, that day was:
"One of my students told us with his AAC device he had 'wet poop!'"
The entire room gasped in appreciation. I love these AAC workshops. It's phenomenal to be in a room of people who get it. None of us get that warm, enthusiastic reception over dinner at home when we talk about bathroom things.
For those of you who are a little lost, let's paint the picture, which is an increasingly common one:
This is a student who was introduced to a robust way to communicate this year after years of having very little access, just a few words in a limited way. This is a child who never had a way to make a choice that wasn't already curated for him by adults who couldn't possibly anticipate all his wants and needs. This is a child who someone might have described as having a "behavior problem" when he was just using whatever he could in absence of communication access.
"Wet poop" wasn't a term he'd heard anyone use before. He didn't know how to find the word "diarrhea" and wasn't sure how to spell it. Because he knew what was going on with his body and could describe it, he was able to get prompt health care. This is easily one of the biggest concerns parents have in consultations with PATINS.
"When they cry, I don't know what's wrong. I don't know if they're hurt or sick or sad, they can't tell me and the doctor doesn't believe me. I'd give anything for them to just tell me what's wrong."
His team knew that despite giving him an excellent robust tool for language there was more to be done. I had the pleasure of sitting down with the team recently to review all the great things they'd done thus far and what to plan for next:
They introduced core and fringe words, and now plan to focus on grammar and syntax to create interesting and meaningful messages

They introduced the alphabet, phonics, and literacy instruction and planned to introduce word prediction to support spelling and communication strategies

They had great visual and language supports for literacy and planned to tweak their presentation to promote engagement.
The future cannot be any brighter for a student when they have a team of adults who are willing to try new things and really listen to the student in all the ways they tell you something.
If you have your own "wet poop" moment, fart sound you want to program into an AAC tool, or need a new idea to try, we're here to help!