IERC (Indiana Educational Resource Center)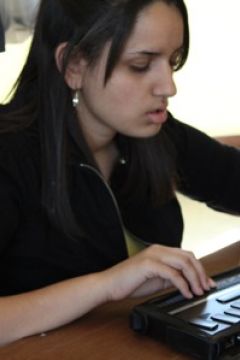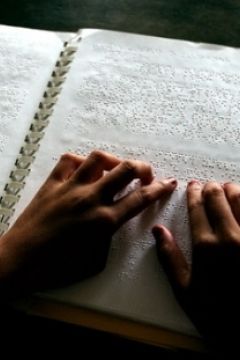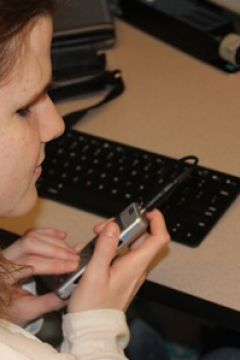 COVID-19 Updates are found under New and Updates

The Indiana Educational Resource Center (IERC) is a statewide, centralized depository of specialized formats for school-age students who are blind or visually impaired enrolled in local education agencies. These formats include braille and large print instructional materials, as well as tangible aids and equipment specifically designed for use by students with visual impairments.

The IERC collaborates with the PATINS Project, Indiana Center for Accessible Materials (ICAM) for the provision of services. Request for instructional materials, for school-age students who are blind or have low vision, are submitted to the ICAM by the LEA appointed Digital Right's Managers (DRM) and are processed by the IERC. All materials are provided at no cost to eligible students and are on loan to the ordering local education agencies.

In addition to the centralized, statewide depository, the IERC also houses and manages a Braille Transcription Project and oversees the Miami Accessible Media Project located at the Miami Correctional Facility in Bunker Hill, Indiana.

Indiana Education Resource Center Brochure

COVID-19 Updates

IERC Remote Support and Services

The IERC, located on the campus of the Indiana School for the Blind and Visually Impaired, will be closing as of this coming Monday, March 23rd for the next few weeks due to COVID-19. Staff will continue to work remotely from home during this time, during our normal business hours of 8:00 AM until 4:00 pm, with limited on-site hours. We will be monitoring the changing situation and adapt work plans and schedules as needed. You may have questions and situations that arise that require our support during this time. You can request IERC assistance by emailing ierc@isbvik12.org.

ICAM Orders and Loans

Incoming orders and student registrations on the ICAM will continue to be processed. Order fulfillment/shipments will be suspended for next year's orders until we are back onsite at the IERC and schools are back in session.

If your student(s) use specialized formats (braille, large print) and/or hands-on instructional materials to access instruction, teachers of students with visual impairments should make every attempt to ensure students have access to these things in the home. If you have access to your school site or office, gather whatever materials are needed to support your student's instruction during this time. These specialized materials may be shipped from school sites directly to a student's home via FREE MATTER FOR THE BLIND.

An example of a Free Matter for the Blind mailing label can be found on our IERC webpage . If sending IERC materials home to students, please have a system in place to log and track these materials.

BLV teachers, if you are not able to obtain student materials from your classrooms, you can search the ICAM to determine if there are additional copies available. If materials are in stock, additional copies can be shipped to your home address. If you want these materials shipped to your home, email Martha LaBounty to add your home address to our database. Please be sure you indicate the date needed when placing your orders so we can distinguish current orders from next year's orders.

Please note, the American Printing House for the Blind is closed and is not shipping materials until at least April 6, 2020. This will impact the availability of materials. The IERC will not be able to fulfill immediate requests for items ordered that are not in stock.

Additional Resources

The National Center on Accessible Educational Materials has created a webpage dedicated to eLearning and Accessible Materials for All Students. This information may be shared with classroom teachers and other staff to assist in the creation of accessible digital materials.

Make sure your students are enrolled in Bookshare and/or Learning Ally as well as the NLS Braille and Audio Reading Materials (BARD) and that they have access to these accounts from home. These free reading tools will help your students continue to access information and participate in learning.

Returning Materials

We would appreciate your efforts to secure IERC borrowed materials in a safe place as schools conduct deep cleaning during the shutdown. Please clean items prior to returning them to the IERC. Our staff will be disinfecting all returned items as well prior to being returned to our inventory collection.

Annual Inventory Recall Process

Information regarding the Annual Inventory Recall Process has been sent out to all BLV's. We understand that to fully complete this process you will need to be at your school offices, however, if you are able to update any items on the ICAM that you know will be renewed, reassigned, consumed or lost, that would be helpful.

Once you are back in your schools and are able to return inventory back to the IERC, visit our webpage to access return Free Matter for the Blind mailing labels . Please be sure to complete the return address as this helps us sort incoming materials that come off the mail truck. We would appreciate you notifying us of any discrepancies in your shipments using the Inventory Return Forms . This would include missing or damaged volumes or missing or damaged parts of returned kits.

Be sure to return any Perkins SmartBrailler and MATT Connects as well as borrowed professional publications.

As always, thanks for your time and assistance to complete this very important procedure! It allows us to effectively and efficiently reuse materials and keep our costs down.

Braille Orders

If you are able, please submit orders for braille instructional materials for the upcoming school year so we can begin to research those orders for purchase or to place into transcription. This is something we can manage in our offsite work environment. We want to do our best, considering the school shutdowns, to ensure that our students have their braille materials by the beginning of the next school year. In lieu of a course syllabus to guide transcription, we will instruct braillists to transcribe from the front of the book to the end.

Any orders for large print textbooks and specialized aids and equipment for next school year can be submitted as well, if you know what those will be.

A reminder…If you search the ICAM for an item and your results are unsuccessful, you may place a Special Request for that item. To place a special request, log in to the ICAM. On the main page, select Special Request and enter data or after you have searched the ICAM with the ISBN or APH catalog number, you will also have the option to place a "Special Request."

Contact Information

If you have questions regarding the ICAM or the Annual Inventory Recall process, please email Martha LaBounty at mlabounty@isbvik12.org. Betsy Scott will be available to answer any braille transcription questions you may have as you create Duxbury files remotely by emailing her at bscott@isbvik12.org. If you have any concerns or additional questions, please feel free to email me at ldurst@isbvik12.org.

Thank you for your assistance as we all navigate these uncertain times. Stay healthy and be safe!

Hours of Operation

: 8:00 a.m. – 4:00 p.m. EST

Mail

:

Indiana Educational Resource Center

7725 North College Avenue

Indianapolis, IN 46240-2504

Phone: (317) 554-2740

Toll-free: (800) 833-2198

Fax: (317) 475-9181

eMail:IERCEmail@isbvik12.org


Upcoming BLV Trainings



Check back soon!