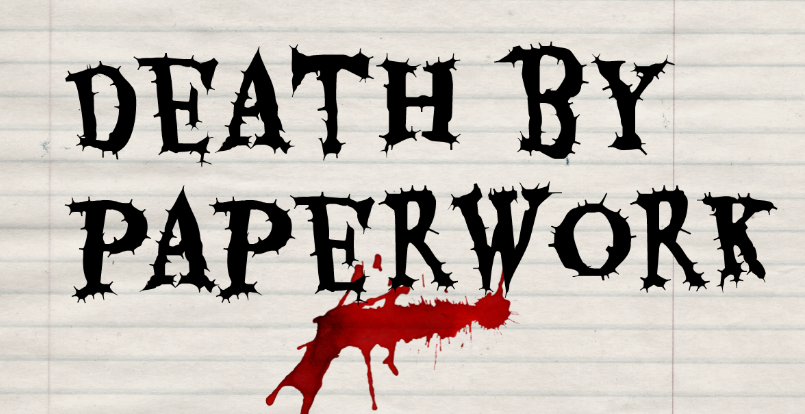 First: I made it out alive. You will too.
This year I messed something up in my back, and by April it was hard to sit for more than twenty minutes at a time. Every drive, conference or meeting I was engaged for a bit and then the rest of the day was spent imitating your favorite wiggly child, trying to ease the pain. I felt terrible.
Sometimes it got better, and then it got worse. I complained. I ignored it. I tried what I knew to fix it, I asked friends for ideas. Nothing really worked.
I had enough and went to a specialist, definitely not something I was looking forward to. I hate going to the doctor. But within a few sessions, my life had changed.
It was like getting glasses in the correct prescription or wearing good shoes after years of wearing Old Navy flip flops. I didn't know how bad it was until I experienced how my spine was meant to be.
About three years into my career I had another issue that was a major pain: paperwork.
Paperwork is like back pain. Everyone gets some, some people get more than they can handle. It comes when it's least convenient and it will not go away if you ignore it. By the end of my third-year the IEPs,
evaluations
, and caseload documents piled up to my ears. It was affecting my ability to do my job and my family life. I felt terrible. If death by paperwork was a thing, it felt imminent.
I complained. I ignored it. I tried what I knew to fix it, I asked friends for ideas. Nothing really worked.
An administrator gently suggested I see some "specialists." I did not want to admit that I was struggling to anyone, but after meeting with others who were amazing at keeping on top of it all, they gave me some ideas. They pointed out some of my mistakes, the weight that was causing the paperwork pain, and they helped me develop my paperwork treatment plan.
In less than two months, I started to feel better. My files were in order and I felt in control. By the next year, I was rocking a weekly paperwork schedule and found tools to help me streamline and automate. I was spending even more time working with kids than I was before! It was career changing. I didn't know how good it could be.
You, dear reader, might be dealing with some pain in your career. Maybe it's
paperwork
or a student
on
your mind who you don't know how to reach. Maybe it's a new tool or expectation that's pain in your neck, and doing your job effectively seems out of reach. Maybe you complained or ignored it. You tried what you knew to fix it, you asked friends for ideas. Nothing may have worked.
If it's related to supporting student's access to education, we've got a team of specialists here to help.
It might just change your life.