5 Ways to Include Students who are Deaf/Hard of Hearing using Universal Design for Learning
Welcome back to School! While you are planning your seating charts, prepping lunch option boards, and digital homework options take a peek below at 5 easy tips to make sure you are universally including access to the curriculum and participation for all students in your classroom this year.
Printable Poster to share at your case conferences and beginning of the year in-services. Thumbprint image of the poster below.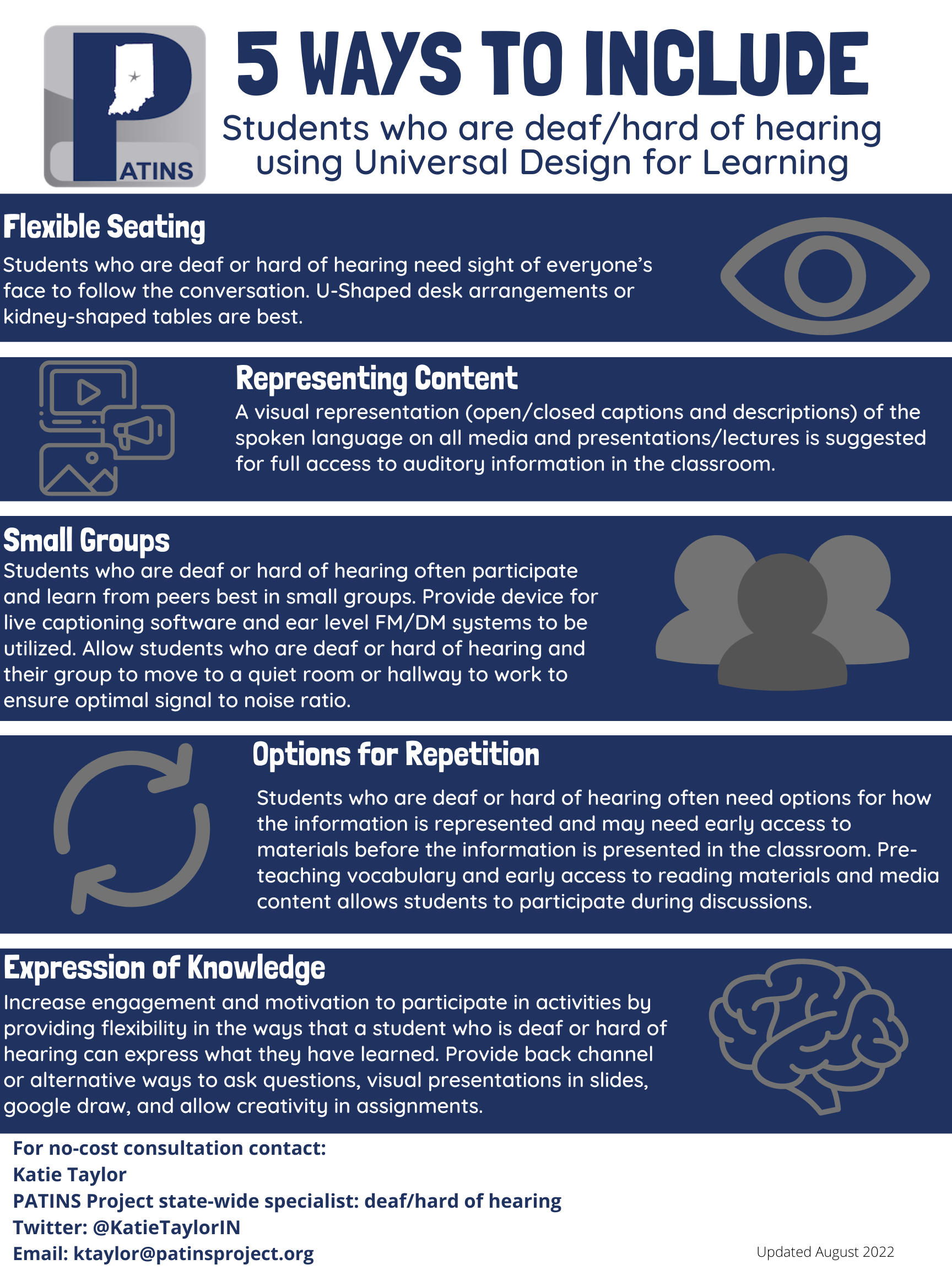 Flexible Seating: Students who are deaf or hard of hearing need sight of everyone's face to follow the conversation. U-Shaped desk arrangements or kidney-shaped tables are best.
Representing Content: A visual representation (open/closed captions and descriptions) of the spoken language on all media and presentations/lectures are suggested for full access to auditory information in the classroom.
Small Groups: Students who are deaf or hard of hearing often participate and learn from peers best in small groups. Provide device for live captioning software and ear level FM/DM systems to be utilized. Allow students who are deaf or hard of hearing and their group to move to a quiet room or hallway to work to ensure an optimal signal-to-noise ratio.
Options for Repetition: Students who are deaf or hard of hearing often need options for how the information is represented and may need early access to materials before the information is presented in the classroom. Pre-teaching vocabulary and early access to reading materials and media content allow students to participate in discussions.
Expression of Knowledge: Flexibility in the ways that a student who is deaf or hard of hearing can express what they have learned will increase engagement and motivation to participate in activities. Provide back channel or alternative ways to ask questions, visual presentations in slides, google draw, etc.
If you and your team need suggestions on implementing any of the above please do not hesitate to contact Katie Taylor, PATINS Project's deaf/hard of hearing state-wide specialist at ktaylor@patinsproject.org.