"I've got it," my eight-year-old daughter Zoë frequently says when I offer to help her. I am completely on board with her show of independence, although sometimes I have to fight the urge to help her do "it" the same way an adult would. She actually mowed the front lawn

on

Friday...she was so determined and excited. Yes, the yard looked like crop circles and she had to contend with a low-flying helicopter parent, but she felt accomplished and proud.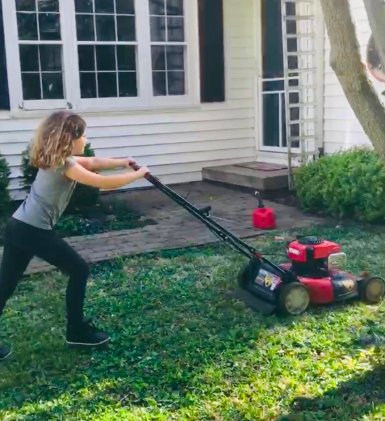 I love that she wanted to do it on her own. However, here is the rub. How do humans balance learning and growing when one of the best ways to grow is to seek help? Especially after we discover that
we are way better together
when we share our gifts with one another.
Consider the gift of discovering that someone already created a form, saving you hours of time and hard work. Learning a strategy from a veteran teacher of how to streamline lesson planning and collaborating with others should be wrapped up with a bow. My favorite gift arrived from a former teacher of a student who was struggling in my class. Incredible suggestions on how to help allowed me to offer the best support possible. I know how important these gifts have been to me.
For those of you who know me, you know I have moved around a lot. I never dreamed when I started teaching the small middle school classroom designed for students with Emotional Disabilities in Indiana that my life would change so drastically and look so different from year to year and from state to state.
I taught a cross-categorical classroom in an elementary school in Gambrills, Maryland. I taught high school at a separate day school for students with significant disabilities in Edgewater, Maryland. I taught self-contained and collaborative classes on the high school and night school levels in Chicago Public Schools. All of this was before I decided to take a leap to become an Assistive Technology Specialist for the city of Chicago. Moving back to Indiana I was an AT Specialist for seven school districts as well as a behavior consultant for another district.
All of these experiences specifically taught me how to change, to learn, and to reinvent.
None of this, however, have I done alone.
When I found myself in a classroom where my principal was not a fan of encouraging words and teaching a man to fish, I learned a huge lesson on what collaboration could do. I viewed it as a punishment when she called in the "big dogs" to teach me how to do reading intervention and how to structure a classroom with so many demands. The class had 13 students and ranged from a student with limited communication who became physically aggressive toward the other students repeatedly throughout the day to students who had dyslexia and would pop in for extra help. I had one assistant and I was drowning.
When the "Big Dog" sent to save me, entered my classroom I felt defeated. I knew she had been sent there because I could not keep my nose above water. What I didn't know is that this dynamic, brilliant and compassionate person would literally turn around every thought I ever had about education. She would work by my side, not in judgment, and forever alter my path as an educator. I could have said, "I've got it." and completely dismissed her support in fear of seeming unskilled or incompetent. Look what I would have missed!
The PATINS Project also does not want anyone, not a single educator, to move through life without a collaborator. I am so proud to be on a team of specialists who are dedicated to learning everything that they can and sharing even more. My best hope is that you take advantage of the in-depth and informal training sessions, conferences and the vast Lending Library we share with you! So many educators have already taken advantage of these services that are, almost completely, no cost to educators. Just this year:
1,242 educators received classroom training sessions led by PATINS/ICAM specialists on Universal Design, accessible materials and/or assistive technology.
1,797 items borrowed from the Assistive Technology Lending Library. Trialed items support communication, vision, hearing and executive functioning in the classroom.
167 in-depth trainings held for publicly funded district, school, and cooperative employees throughout Indiana.
Never do alone what you can do better together. Collaboration is what teachers were born to do! We want to be a part of that collaboration!