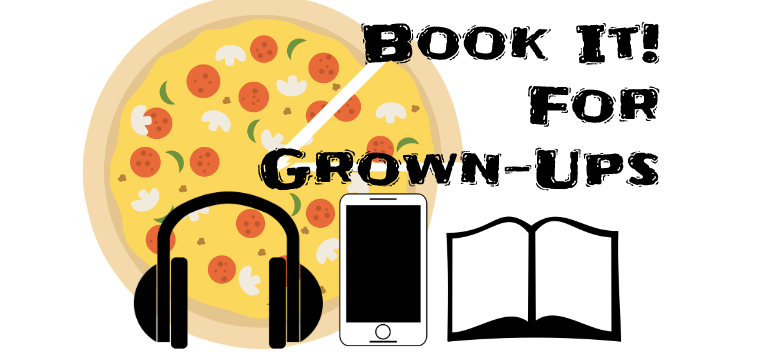 Were you part of the generation that grew up learning the value of reading as it related to a personal pan pizza?
Me too!
Pizza Hut's Book It! program was a cornerstone of my childhood: read so many books a month, and get a little coupon for a free pizza. In elementary school, I devoured books almost as fast as pizza. Throughout my childhood and teens, I always had a stack of novels nearby.

It didn't change until sometime in my 20s. I couldn't find any enjoyment in reading books and at the time I couldn't pinpoint why. My free time, interests, and access to books had certainly changed. I had a job, responsibilities, and no weekly trip to the library built into my schedule. I just didn't read books anymore, so I described myself as "not much of a reader."
In actuality I was still a reader, a voracious one even. I was just reading different things for different purposes: cooking and travel blogs, news reports, professional journals, comic strips, and the Wikipedia pages on Basque whaling in the 1700s. I spent hours reading every day but if it wasn't a book with chapters I believed it didn't count. That frame of mind was harmful: no one way of reading or type of reading is superior to another. When we put books and novels as superior to other types of reading, we set ourselves up to an unequal and inaccessible standard. And when I took the pressure off of being "a good reader = books = pizza" and could find enjoyment in more types of reading.
So I propose a new Book It, A Grown Up Reading Program. There are a few rules:
All reading counts
Books of any length or genre? Good. Children's books? Good. Not-a-books like blogs, comic strips, technical reports, the news, and recipes? All good. Audio, digital text, print? Good, good, good!
Get the tools to help you read
Today I almost exclusively read digital materials. Audiobooks let me multitask, conserve energy, and prevent repetitive motion injuries while the digital text gives me the learning and organization tools I need. Both of these formats are necessary for me to access reading. I also use two types of headphones for audiobooks: bone conduction and noise canceling. You can borrow these types of headphones from our lending library. If I was a student with an IEP, I would insist all this information be written in that document under assistive technology and accessible educational materials.
Did you notice up at the top right corner of the screen we have a ReachDeck accessibility toolbar? If you haven't yet, try it out. Listen to this blog or another page with the tool. Do some stretches or pace around a bit and read. Did you like it? Would you or your students use something like that again?
Share the joy
Does every student have access to reading materials in your district at the exact same moment as everyone else?
Do they all get to have interesting reading experiences about a variety of topics?
Do they need some tools to be successful readers, as most adults do?
If you need support with the above questions, reach out to us, we have tools and ideas to try!
Finally, buy yourself a pizza
Also, splurge on some breadsticks, because you are a grown-up with grown-up money.