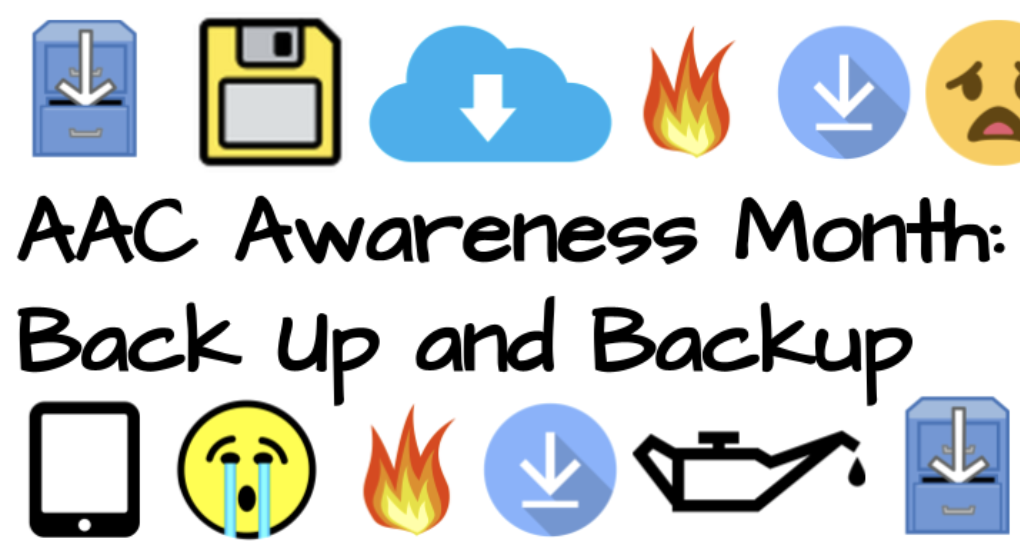 I love working for PATINS. Going into work knowing there's something I can do to help Indiana's public PreK-12 staff and the students they serve at no cost to them? Amazing. A true dream job. However, there is one part of this job I really, really hate because it's so preventable.
At the time of this blog publishing, it has been 19 days since the last Least Favorite Thing happened. It hurts my heart, a feeling of mad-sad unlike any other, and it makes the list as my Least Favorite Thing because it's so easily preventable:
Back up the AAC tools.
Augmentative and Alternative Communication tools are like a precious tangible bit of your student's soul. These tools have words for family, friends, and favorite things. It's organized and situated just right, like a perfectly organized office, where things are just the right style and everything is in its right place and no two are exactly the same. Just like the perfect office where all the most important things happen, it might burn to the ground and your student might be left with nothing. It is always heartbreaking when the tool is lost forever, sometimes life-threatening, and always preventable.
Reasons I've heard staff share while fighting back tears and screams of frustration:
An art project resulting in q-tips and jello shoved into the charging port
Dropped device in toilet
"I don't know, I just looked away for a minute and then suddenly all the buttons are gone!"
Frisbee'd device across the room
Well-meaning IT staff "updating" the device
His sibling used it like a step stool to get to the kitchen counter
App updates corrupted original file
Left on the playground during a rainstorm
"She got mad and deleted the app so she didn't have to talk to us, but now she'd like it back."
He ate it
When backing up files, three really simple rules:
1. If it's not set up to be automatic, backup at least 4 times a year if not monthly, especially if you've done a big "vocabulary dump" or settings change.
2. Backups should be shared and shared confidentially with at least 3 people in a way that it could be retrieved in the dead of night in the middle of winter break on the way to the hospital. Google Drive, One Drive, or Drop Box are very popular options, others offer options owned by the software company.
3.
Involve your student in the backup process.
Talk about who sees the backups and why they're important and how to get to them. Backups, like checking the batteries in your fire alarm, aren't magical mysterious events. Involve your young students early and often and give them the opportunity to learn to advocate and direct how they want their tools, an important part of AAC competency.
Backing Up AAC Files:
These are a sampling of AAC products and directions on how to back up the files. Are you supporting software not on this list or have a tool that's not software and need some help with backing up and using it? Please reach out to one of our AAC Specialists and we will help!
Empower (PRC-Saltillo Accent devices)
NuVoice (PRC-Saltillo Accent devices)
NovaChat devices