Building Blocks: Virtual vs Real
My oldest grandson, Dean, has taken a real interest in blocks. It's kind of funny, because as a toddler he really didn't show that much interest in playing with them. However, at the age of 8 and in the third grade it finally captivated him.
Don't get me wrong, he has played with a Lego here and there, but it really took off this past Autumn. I couldn't help but wonder what prompted the interest.
Looking back, over the past year he has been very involved with the video software Minecraft. If you're not familiar, it is a virtual world where a player or gamer (I'm not sure of the correct term) creates a virtual world out of blocks and a variety of objects and things one can collect.
For his birthday last April, he was all about Minecraft, including a desire to own a Minecraft chest. My wife, Rita (aka Mimi) had been checking Pinterest and YouTube and came up with the idea that I should make him one.
Being the procrastinator that I am, I started the project the week before his birthday. I took ownership of the process and completed the chest. We filled it with Minecraft little figurines. Dean was very surprised and grateful… not so much for what was in the chest, but that Pappy Pa and Mimi created it just for him.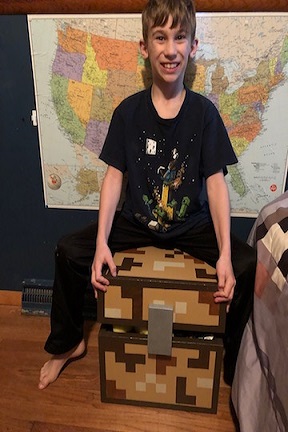 Shortly after his birthday, I asked Dean for a little instruction on Minecraft. He gave me a tutorial then showed me videos on YouTube where gamers show off their abilities.
This past summer I can't tell you how many times I observed Dean and his brother Logan watching Minecraft YouTube videos…it seemed endless.
I had mentioned Legos earlier - here at the Bond house, we had a somewhat small collection. Just the right size however for Dean to start "creating" things that resembled Minecraft components. With Thanksgiving and Christmas just around the corner, Rita and I decided to bulk up our Lego collection for the holidays. You know just to give the kids something to do.
Thanksgiving Day we pulled out a box of Legos with over 1500 pieces! All the kid's eyes lit up especially Dean's. It was fun to watch all the grandkids AND my son-in-law build their individual creations.
After about an hour or so the interest level subsided, except for Dean's. He continued to amass several replicas of what he had created in Minecraft. He was as consumed with building with Legos as he was building in the virtual game, and it lasted for hours.
I am not a gamer. I have a Wii but still can't virtual bowl for squat, so I don't go to a bowling alley for that reason. However, to watch Dean over the past months translate the virtual reality of his creation into the real world of constructing what he has imagined, has been fascinating and rewarding.
We put a lot of technology into the hands of children. I wonder how many can transfer their virtual experiences into real life experiences?