Before I was a PATINS Staff member, I was a middle school Speech-Language Pathologist (SLP) and introduced to the
Assistive Technology Lending Library
by a colleague. I knew exactly what I wanted to borrow first. An iPad loaded with LAMP Words for Life for a student with a lot to say and in need of a better tool to tell us about all the amazing ideas he had to share with the world.
I started using the loaned device with the student and saw his language and his personality blossom. Once I had a good amount of data to share with his family and school team, I packed up the iPad, completed the loan request evaluation, and it was on its way for another Indiana student to use.
The last time I borrowed from the Lending Library as a SLP with my own caseload was in 2018. To create the infographic below, I spent some one on one time with the AT Lending Library
catalog
. I discovered ingenious tools that could have been
*life changers
for many of my former students, like bone conduction headphones, reader pens, and Cling! ARM.
But why hadn't I seen these items before or thought about different ways to use them? I did some research and it turns out there are two reasons,
*time and stress
. (Learn more in the article "
The Science of Creativity
"). Being a new SLP, I was low on time, placed plenty of stress on myself, and therefore did not allow much room for creativity.
*I wish I had set aside a little time to search through the catalog to boost my creativity, stretch my professional skills, and be an even better educator.
I would follow only two criteria:
Learn more about any item which piqued my interest.
Brainstorm how I could use the item to benefit the skill development of students at my school.
*Finding creative solutions is one of the most enjoyable parts of being an educator (and in life).
Think of the last time you discovered a new tool that made a big impact. How did you feel? Hopeful? Proud? A little relieved?
Right now, uninterrupted time is a luxury, so tuck this idea away for when you need a burst of inspiration. This would be an engaging activity to begin a staff meeting or even for your students to partake in. Who better to know what we need to succeed in school than ourselves right?
The
Assistive Technology Lending Library
loans out a variety of educational items, even when we're facing a pandemic. One of the best parts is that the AT Lending Library is a no-cost service. (The PATINS Lending Library is following the strictest protocol for cleaning and disinfecting all loan requests before shipping to Indiana schools.) Here's a breakdown from the previous school year: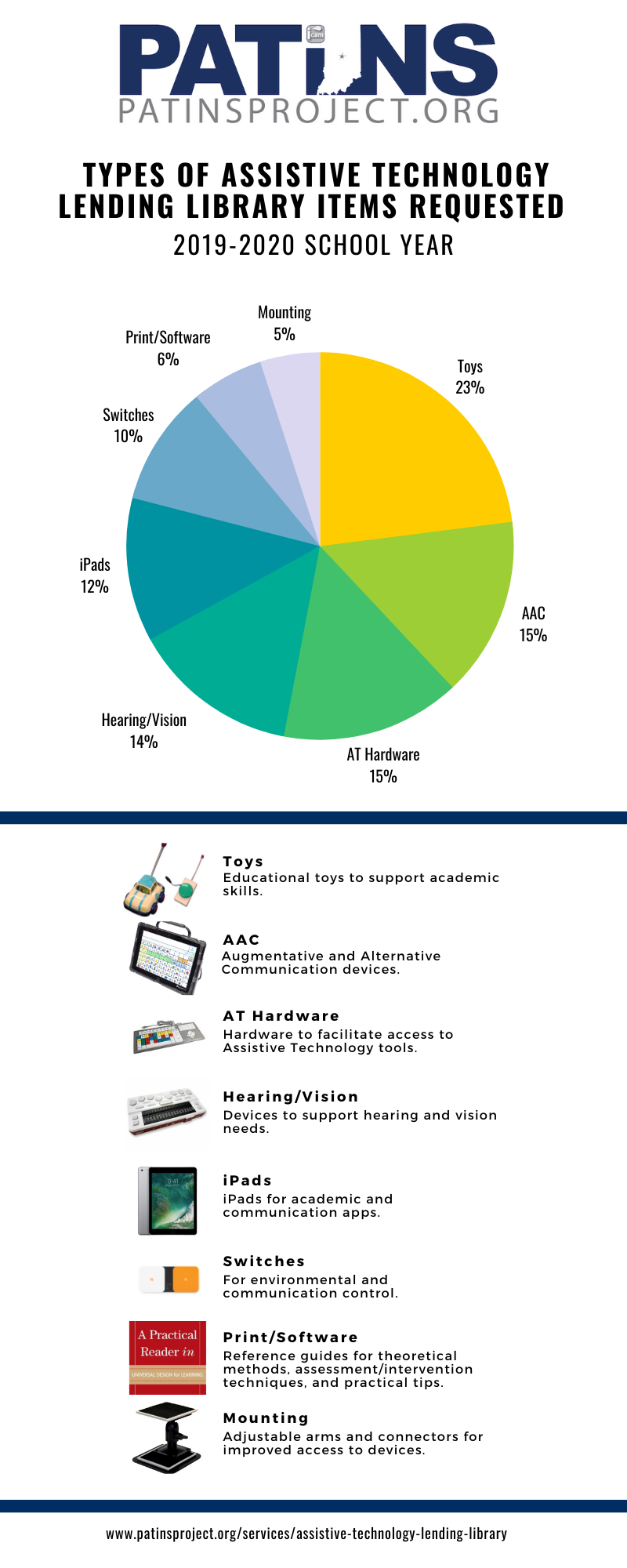 Types of Assistive Technology Lending Library Items Requested 2019-2020 School Year.
Toys - 23%
AAC - 15%
AT Hardware - 15%
Hearing/Vision - 14%
iPads - 12%
Switches - 10%
Print/Software - 6%
Mounting - 5%
Toys - Educational toys to support academic skills.
AAC - Augmentative and Alternative Communication devices.
AT Hardware - Hardware to facilitate access to Assistive Technology tools.
Hearing/Vision - Devices to support hearing and vision needs.
iPads - iPads for academic and communication apps.
Switches - For environmental and communication control.
Print/Software - Reference guides for theoretical methods, assessment/intervention techniques, and practical tips.
Mounting - Adjustable arms and connectors for improved access to devices.
Peruse the
Assistive Technology Lending Library
when you have a chance. To view the most results, use a *
simple keyword
and
*always capitalize the first letter
. This will return all the items with that word present in the title or description.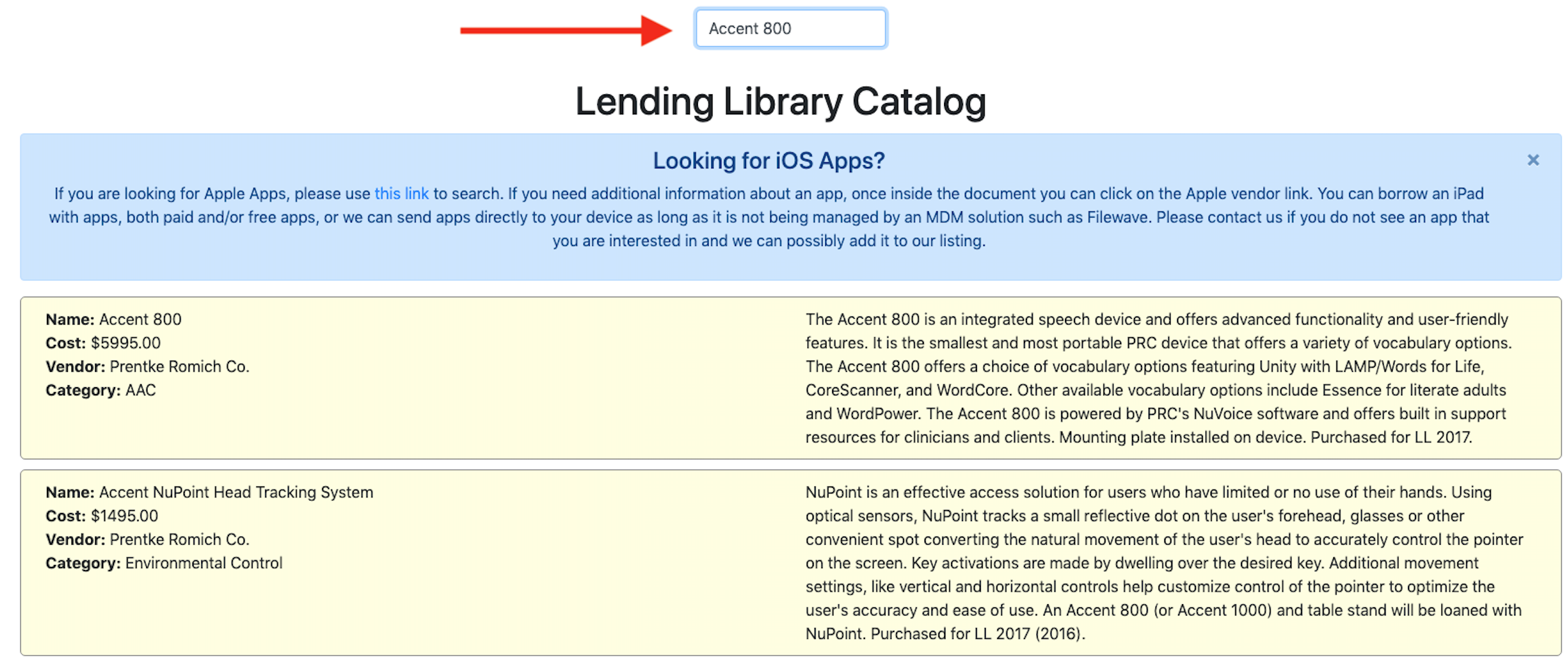 Another way to learn more about the AT Lending Library is to join us at the virtual
Access to Education
conference in November 2020. You have the opportunity to view new and popular AT Lending Library items paired with practical ideas for your students at the
*AT Exploratorium and the UDL Classroom Experience.
How has the Lending Library helped your students recently? Let us know in the comments below.