Developing Professionally is a BIG Deal, Especially with PATINS: BETTER TOGETHER!
The PATINS staff have been BUSY this summer with professional development; providing, receiving, and planning for! The PATINS Specialists have been all over the state of Indiana presenting at and attending the Indiana Dept. of Education's eLearning conferences all summer! Perhaps you saw our Specialists out there during this wonderful Indiana heat and if you did, I hope you felt welcomed to interact with them! We've also been working through a couple of book studies as a PATINS staff that include reflective case studies, Lending Library recommendations, preparation for strategic planning and a slight revamp of this PATINS Ponders Blog as well as our weekly Tuesday night Twitter Chat! Extensive preparation has also been underway for the 2018-19 AEMing for Achievement Grants and the 2018 Access to Education (#A2E) Conference!
SO MUCH to tell you about! While some of this work has certainly been done individually, NONE of it could be accomplished without ALL of us. We truly are far better together!
"Do you like eggs?" …a line from "Fish In A Tree," by Lynda Mullaly Hunt. A main character, Ally, is brilliant in so many ways and struggles with some things as well. She's frequently misunderstood and isn't always able to show her brilliance and compassion in ways she intends. One day, she asks her new seat-partner about eggs as a way to let her know that she'd like to be her friend and, again, isn't able to convey her message the way she wanted to. This book is full of Ally's stories and is a wonderful read! As a K-12 student myself, I could read pretty well. My language arts grades were usually A's, and I didn't have to work too terribly hard. However, reading for pleasure…truly enjoying reading for myself and not for a grade, didn't prevail at all until much, much later in my life. Some person, a specific book, a specific interest being fed, some specific support or encouragement, some unconditional love, might be a big piece of what it takes to offer a student the reason to begin truly enjoying reading for themselves!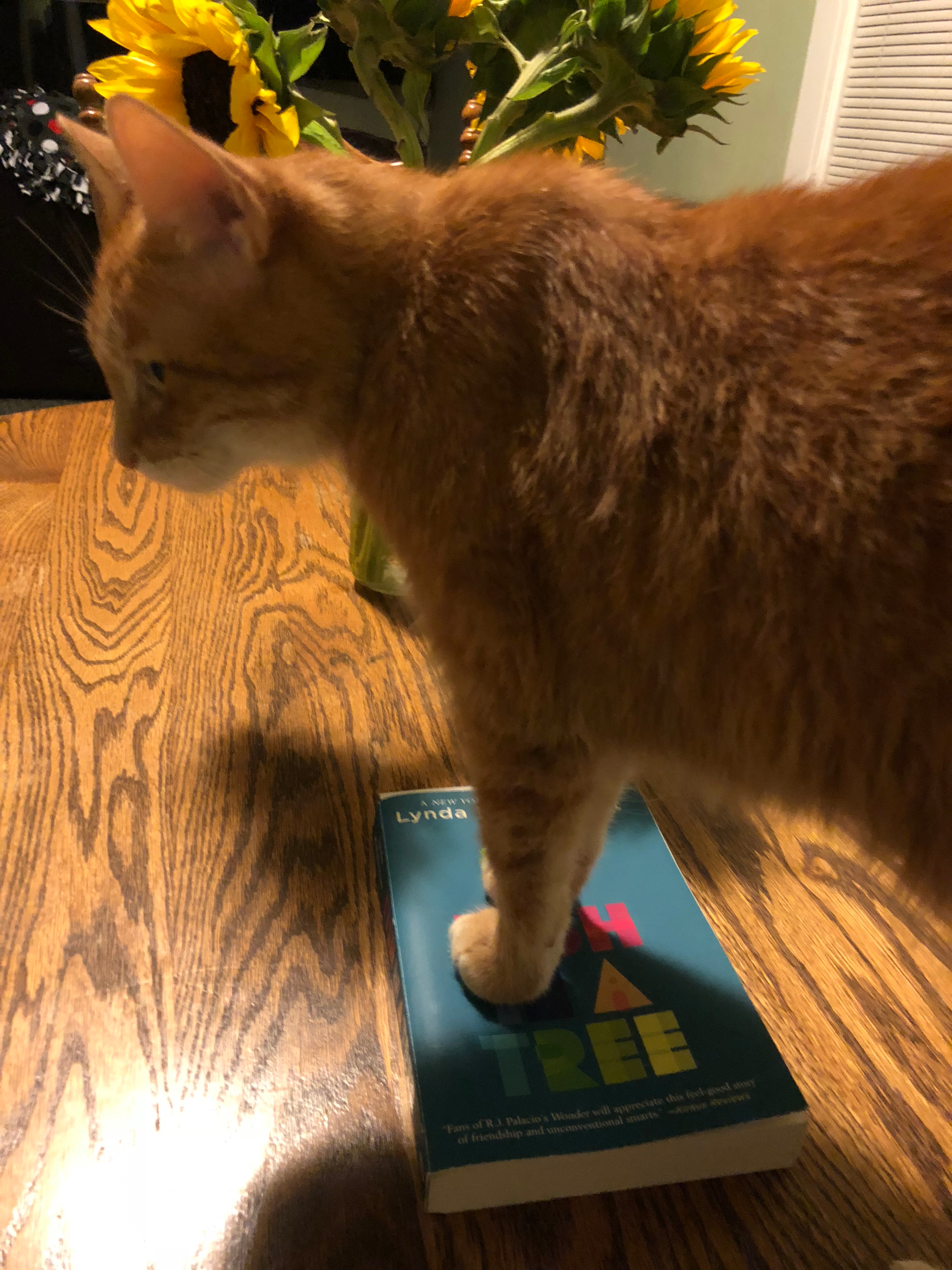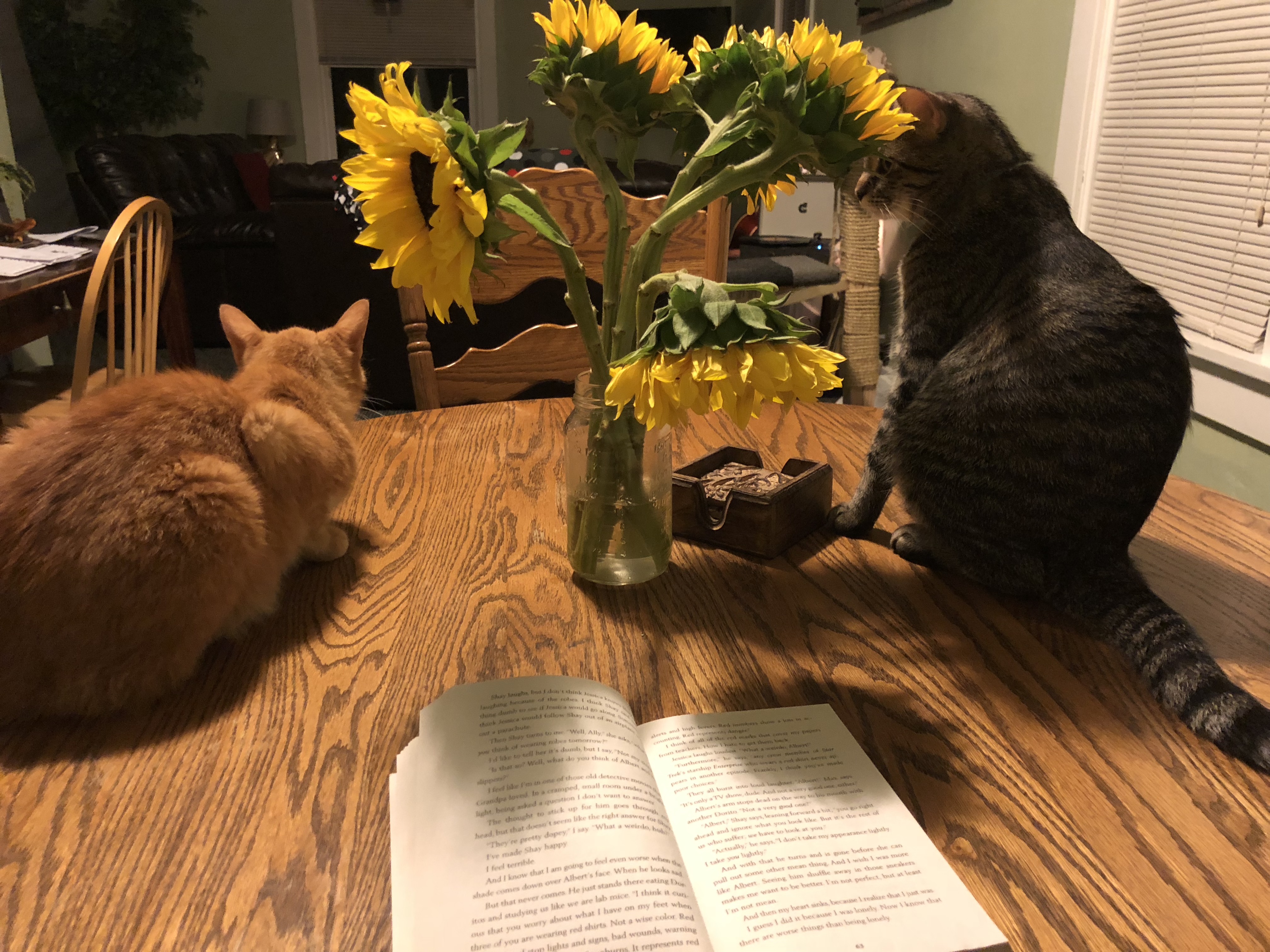 Even my kitties are loving the book study! They get a little demanding at times and remind me when it's time to read! This is one of the two books that the PATINS staff is reading this summer/fall. Part of this book study of ours includes creating education plans for characters in the book, determining potentially appropriate assistive technology for them from our Lending Library, and the creation of informational/persuasive letters with regard to the importance of accessible materials within the classrooms in the book!
This process benefits our own professional development and practice, but it can also be beneficial to you as practitioners with these "book characters" in your schools every day! We would be so glad to share our collective knowledge, materials, and resources with you! Further, I'd like to encourage you to participate in book studies of your own. This could be with your colleagues, with your staff, or with your friends and families. I'd further like to offer to you book studies in conjunction with PATINS! We would love to assist, guide, moderate, or otherwise help with your own book study! I feel strongly that multiple modes of professional development are essential to the professionals we support, just as multiple modes are important to the students you support.

As Indiana educators, I'd like for you to consider having PATINS guide a book study for you just as you would ask us to provide an in-person training for you and your team! Just reach out to us and toss out ideas or request suggestions from us! In the same vein, we're also working on the production of a new and improved brief "menu" of a selection of GO-TO-PD that's the hottest, latest, and best that we have to offer! Look for this in the early Fall! Of course, we're also always happy to customize ANY professional development to your specific needs and in the meantime, check out our current offerings on our Training Calendar.
I also want to welcome and introduce you to two new PATINS Staff this year! Following the retirement of Jim Lambert, who was dedicated to the PATINS Project for 19 years, I'm pleased to announce that Jena Fahlbush has been selected to fulfill that role! Jena has served us extremely well as our Data & Outreach Specialist previously, and I'm super excited to watch her grow within her new position! Taking over our Data & Outreach responsibilities will be a new person to the PATINS team! I'm also very proud to welcome and introduce Jennifer Conti! Jen comes to us with experience as an SLP and has already put in tons of creative and important work in just her first week on the job!

Another part of our hard work over this summer to provide effective professional development includes our world renowned Access to Education Conference happening at the end of November! Having attended many, MANY, professional education conferences across the country over the past 12 years, I say with confidence that our line-up is world-class with a back yard cost and a family barbeque feel! For $100/day, we bring you the best of the best for 2 days of awesome professional development on November 28 and 29!
I'm proud to announce that our new State Director of Special Education, Dr. Nancy Holsapple (@NancyHolsapple) will be joining us, along with highly sought-after minds of brilliance and compassion like Joy Zabala (@joyzabala), Kelly Fonner (@KellyFonner), Mike Marotta (@mmatp), Beth Poss (@possbeth), Mystie Rail (@atlaak), Cynthia Curry (@clcurry), Luis Perez (@eyeonaxs), Mo Buti (@themobuti), Brian Goemer and many more! Plus, to jazz us all up and build on our belief that ANYTHING is possible, Dr. Kelly J. Grillo (@kellygrillo) will join us to share her amazing story and it's one you won't want to miss!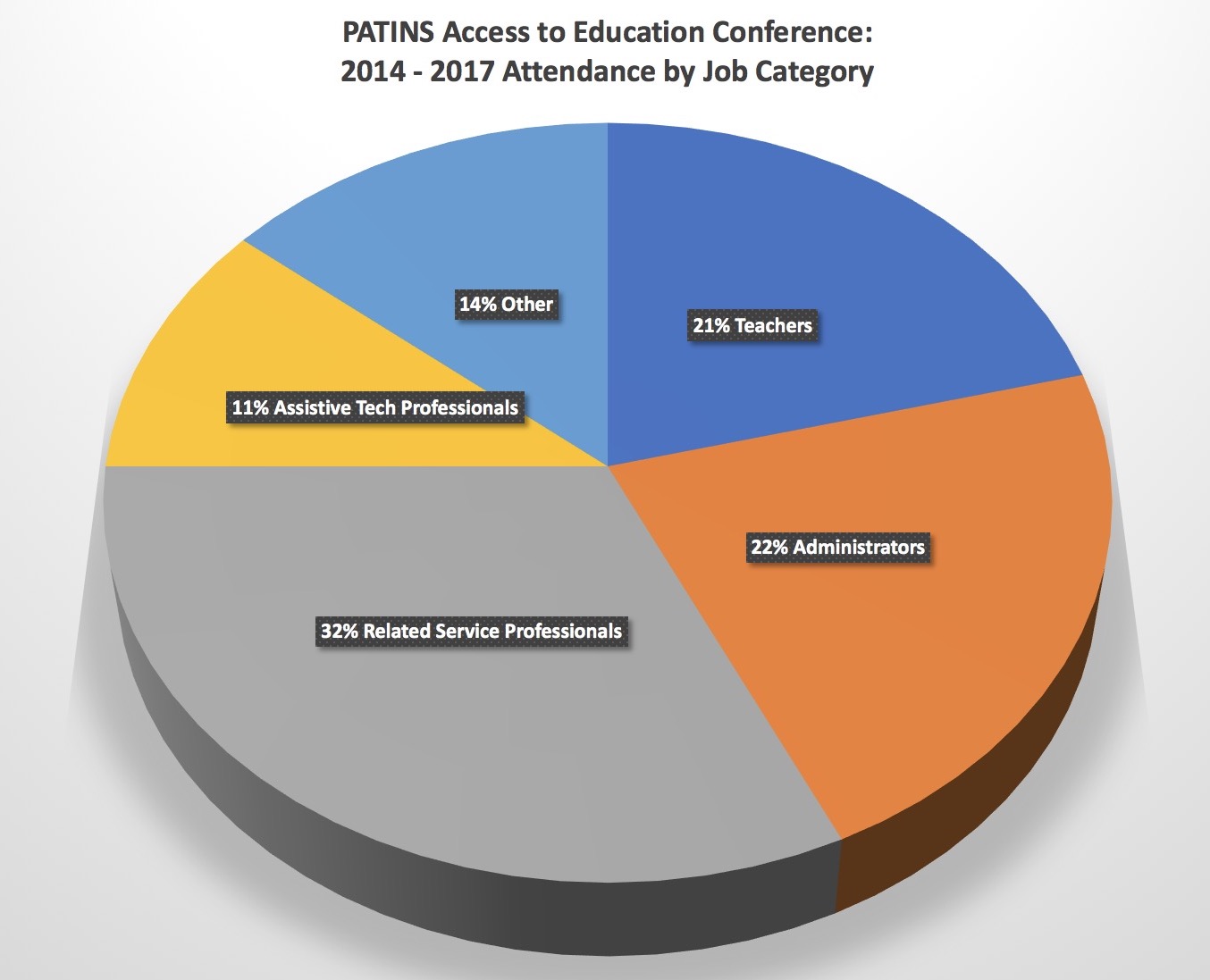 From Indiana's AEM collaboration with CAST's National AEM Center to our own AEMing for Achievement Grant districts, to presenting at the OSEP Director's Conference next week (which I will be Tweeting from), to overcoming some major turns in my personal life, I've fully realized that working in passion in all that we do and closing the circle gets us further. I try hard to be an On-Purpose Person and within that philosophy, I ask you all to ask yourselves if you're feeling energized by the power of others in your life or drained? Are you being pushed in our work to make a difference for families, teachers, and students? I am! Sometimes I'm only firing with one cylinder but, like my 2-stroke motorcycle, a finely tuned and maintained single cylinder 2-stroke can easily make more power than a bike with 2, 3, or 4 cylinders! However, it takes a partner and, often-times, teams to keep that single-cylinder 2-stroke running in a way that really performs. It takes a lot more frequent maintenance than a 4 stroke! I take pride in choosing the path that more is more powerful, and surround myself with the necessary people to keep it running!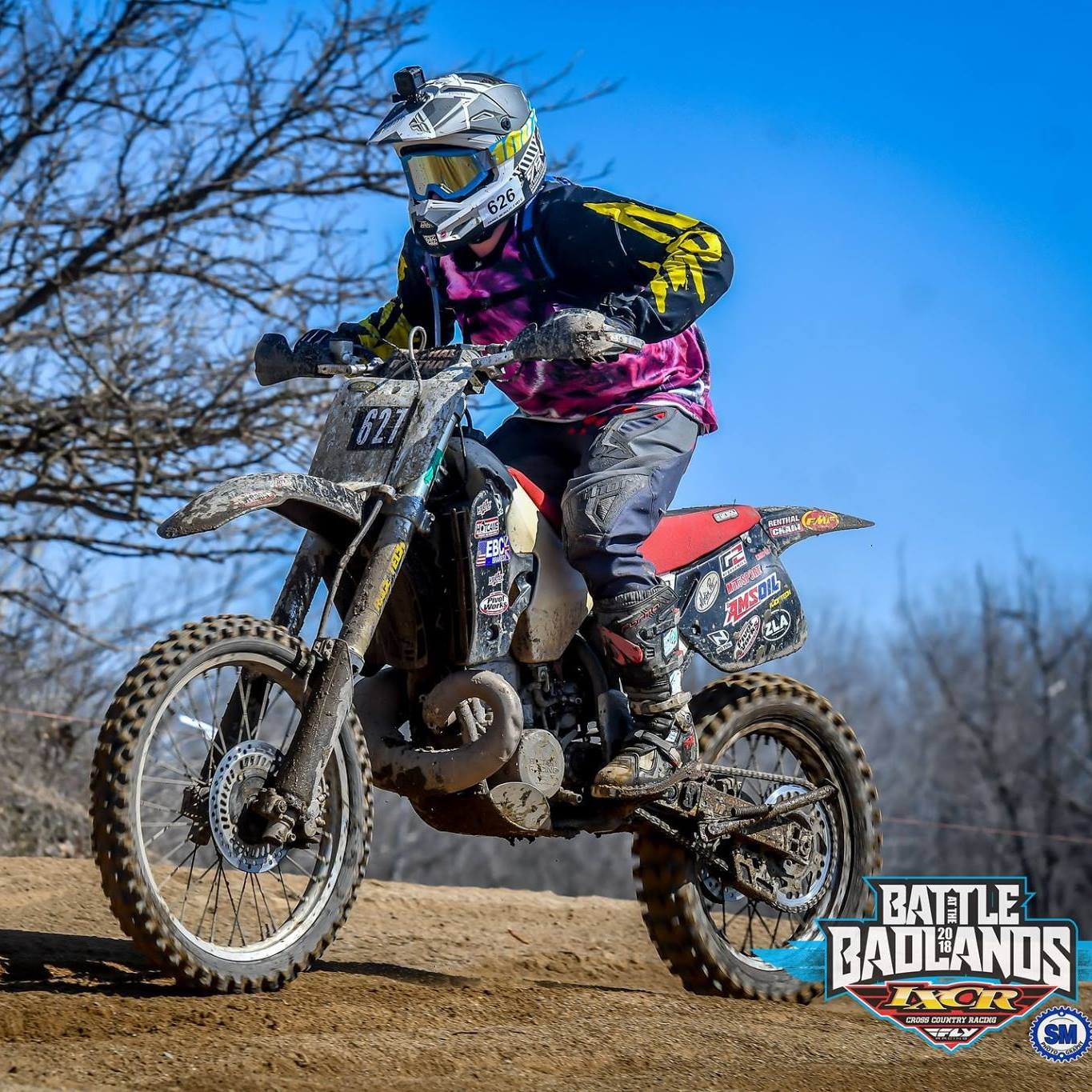 PATINS is pushing boundaries in seeking equity and access for ALL students, and we're looking for partners in our work to co-create, guest blog with us, co-moderate our Twitter Chats and more, because one thing I know for certain in this work is that we're better together! Please reach out to us if you are interested in co-blogging and/or co-tweeting with PATINS this year!
So, I ask you to ask yourself; have you pushed your own limits to impact our deeply important field? Have you chosen the 2-stroke motor that you know is going to take more maintenance to keep running and then surrounded yourself with a pit crew? I recently asked Dr. Kelly Grillo this same question. Here's what this year's PATINS Access to Education Conference day 1 keynote has done just this summer to sharpen her skills and impact our field:
"I was recently appointed to the CEC Leadership Development Committee, I spent two weeks at the University of Florida retooling my research skills in the hard sciences as a teaching fellow at CPET (@UFCPET), I've completely redesigned and built a graduate course at the University of Central Florida in secondary methods using Universal Design, I renewed my Google Educators certification, and completed two article submissions on practical ways to implement UDL in K-12 modern classrooms with high-stakes testing. Though modest in most things, I'm bold about student learning and my passion for investment into persons with disabilities is clear."

We're lucky to share a colleague like Dr. Grillo at this year's conference, who is bold and dedicated to all children and to learning. She's active on Twitter, which is actually where I came across her! Are you connected to a great something, someone, team, or network in this work of ours yet? Join us at this November's Access to Education Conference and get connected to get pushed! It's a Big Deal!
Speaking of Twitter, the PATINS Tuesday night Twitter Chat starts up again September 4 at 8:30pm EST! Join us! AND…something new; the third Tuesday night of each month this year will be a chat dedicated to both the past and the current AEMing for Achievement grant teams! This will be a chat to discuss the general concepts essential to providing an accessible learning environment, but also to discuss the grant itself and to brainstorm with other district teams from around the state who have been through the process! So, Tuesday September 18 will be the first AEMing Grant chat! Mark your calendars! PLUS, if you haven't been a past AEMing team and haven't applied yet to be one of this year's teams, you have 1 WEEK LEFT! Application is OPEN and closes on July 27!

Professional development is a BIG DEAL and PATINS is here for you! WE are better together!