As humans, we tend to perceive the things we're already looking for. …the things that we are expecting to see, the sounds we are expecting to hear, and the things we are expecting to feel.
Executive functions refer to brain activities that regulate or control cognitive and behavioral processes. It's responsible for initiating, organizing, and prioritizing what we think about. Subsequently, what we think about is what we tend to perceive. Knowing, understanding, and being aware of this has huge potential implications for nearly everything in our daily lives, including how we teach, how we learn, and the expectations we have for others' learning.
When teaching new motorcyclists the fundamentals of controlling a two-wheeled vehicle for the first time, safety is up the utmost concern! We actually begin with this very concept of perception. For example, total braking distance is determined by first perceiving that there is a threat, second by reacting to it, and finally by the actual physics involved in stopping the motorcycle. The perception part is overtly critical in whether or not this process will be successful! In that regard, much time and effort is focused on demonstrating how perception improves drastically if the brain has a priority (safety, threats, escape paths). The idea is to see everything but pull out the most significant factors in that moment, quickly, to be processed and reacted to!
Do you see the rabbit or do you see the duck? Both?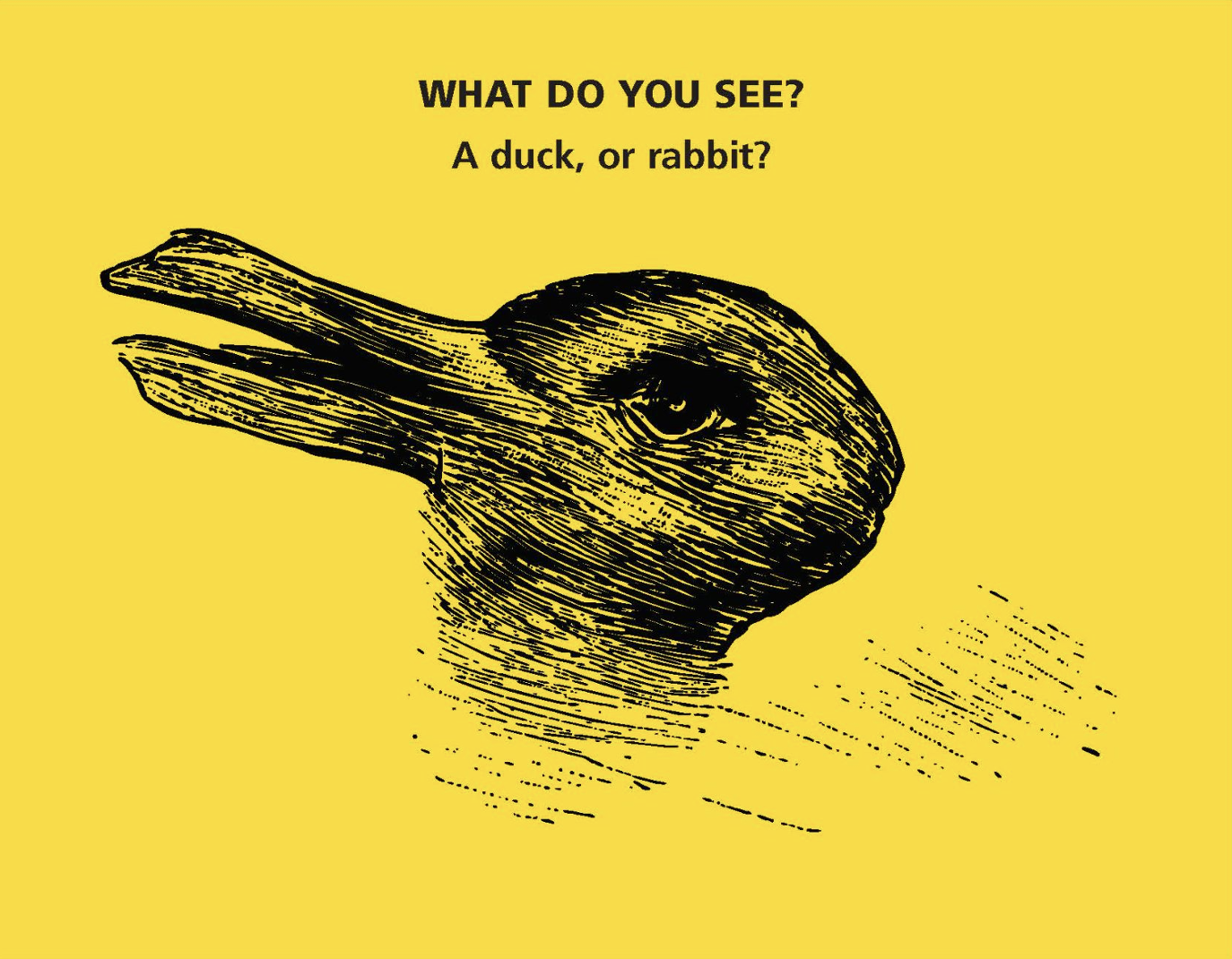 If you only see one or the other, your brain has likely been conditioned, for whatever reason, to search for and perceive that particular animal over the other one. The really cool thing, however, is that you can reshape this! You can train your brain to perceive the other animal and once you do, you won't be able to NOT see them both from that point on! You might also check out this auditory and video version of the old duck/rabbit drawing on YouTube.

Clearly, this becomes very important as a motorcyclist is scanning the road ahead, traffic to the sides and to the rear in the rider's mirrors. The more potential threats and potential escape paths that the rider is able to perceive quickly, the greater any risk becomes offset by skill and awareness. Personally, I work very hard at getting better at this, both on a motorcycle and in education in general!

Getting better at perceiving things more deeply and/or in differing ways isn't easy. It requires deliberate focus, continued effort, and dedication. I wonder, a lot, how often we let our initial perceptions about learners settle as our only perceptions about them. For now, let's allow the rabbit to represent the more limiting or negative parts of what we perceive and the duck to represent the other parts that we're not perceiving, yet.

Back in February of 2019, I wrote about an experience very much related to this, concerning a colleague I was traveling with and the difficulties she was forced to deal with as a result of initial perceptions. How often do we experience a student's IEP and gain a perception that we stick with and subconsciously allow to set the cap on our expectations for that learner? How often do we witness a student in the hallway making a poor decision, or hearsay from a previous teacher, etc., and allow the same thing to occur?

Even further back in June of 2017, I wrote about myself as a younger student and the way I was perceived by many of my teachers. Perceptions that guided what they felt I should be doing differently...how I needed to change...perceptions that clouded them from noticing that I loved to compose, that I loved to draw, that I loved music, that I love motorcycles even then! They just saw the rabbit! I wanted them to see the duck too!

More recently, I've been heard a lot about Least Restrictive Environment (LRE) and student proficiency. Both of which are highly important factors for consideration in schools! When learners are perceived as one thing, solely by their disability category, their inability to speak using their mouth, or their need to receive information in specialized or accessible formats, for example, they often get placed in more restrictive environments! When this sort of thing happens more than once, a trend begins to form. When that trend isn't deliberately, and sometimes uncomfortably stopped, a culture begins to form. ...a culture of, "this is just the way we do things here," or "we just don't have the resources here to do it differently." When that sort of culture has formed in a place, it really means, "we've decided we're satisfied with only seeing the rabbit, we just can't see the duck in there." This sort of mentality becomes very difficult to change. It requires the strongest, most tenacious, and wise parts of a place, to change.

This involves the combining of one's perception and their brain's executive functions. In other words, if a person maintains the priority to actively seek out certain things within a space or environment, the senses and the mind can process them very quickly and accurately. If an educator WANTS to perceive the capabilities of a learner or the ability to see the duck, they usually will have to seek out training, discussion, debate, mentorship, and collaboration!

This is where organizations like PATINS are so valuable to Indiana's public education. It takes trust, which is built over time! Encouragement, which has to be genuine and timely! Accessiblity and adaptability, which require great skill and practice! All active participants, which takes planning and patience. ...and Goal-oriented experiences, which are purposeful and requires great focus. Those 5 pillars represent, construct, and support everything that the PATINS staff builds, shares, creates, and offers to Indiana public schools, at no-cost to them! The offerings from this PATINS team are no accident! Through hundreds of combined years of experience and genuine passion for inclusivity and progress, we're here for you, Indiana. Reach out to us!! Come to our 2021 Virtual PATINS Access to Education (A2E) Conference on November 16, 17, 18! Registration is open now! Sign up for one of our Specialist's MANY GREAT no-cost trainings!

Allow yourself to acknowledge that you, maybe, aren't always perceiving the "duck." Possess a desire to perceive more than just the "rabbit," because you trust that it's there. Reach out to others and request assistance in exploring a situation differently, focusing on different parts of it, and enjoy the process, as you begin to perceive so much more than you ever noticed before!