Pause your day for a moment and deliberately gather a handful of some things you regularly do every day. Think of some things you do without thinking too much or without putting much effort forth. Making coffee, emptying the mailbox, carrying my own towel to the shower, walking through the front door of the grocery store or doctor's office, carrying an onion from the refrigerator to the cutting board with a knife, are a few such activities that come to my mind. I want you to keep the activities you thought of readily accessible, perhaps, even write, type, or dictate them into a quick note. I'm actually going to ask you to make two lists, so here's a template for you to use, with two columns and some ideas to get started, if helpful.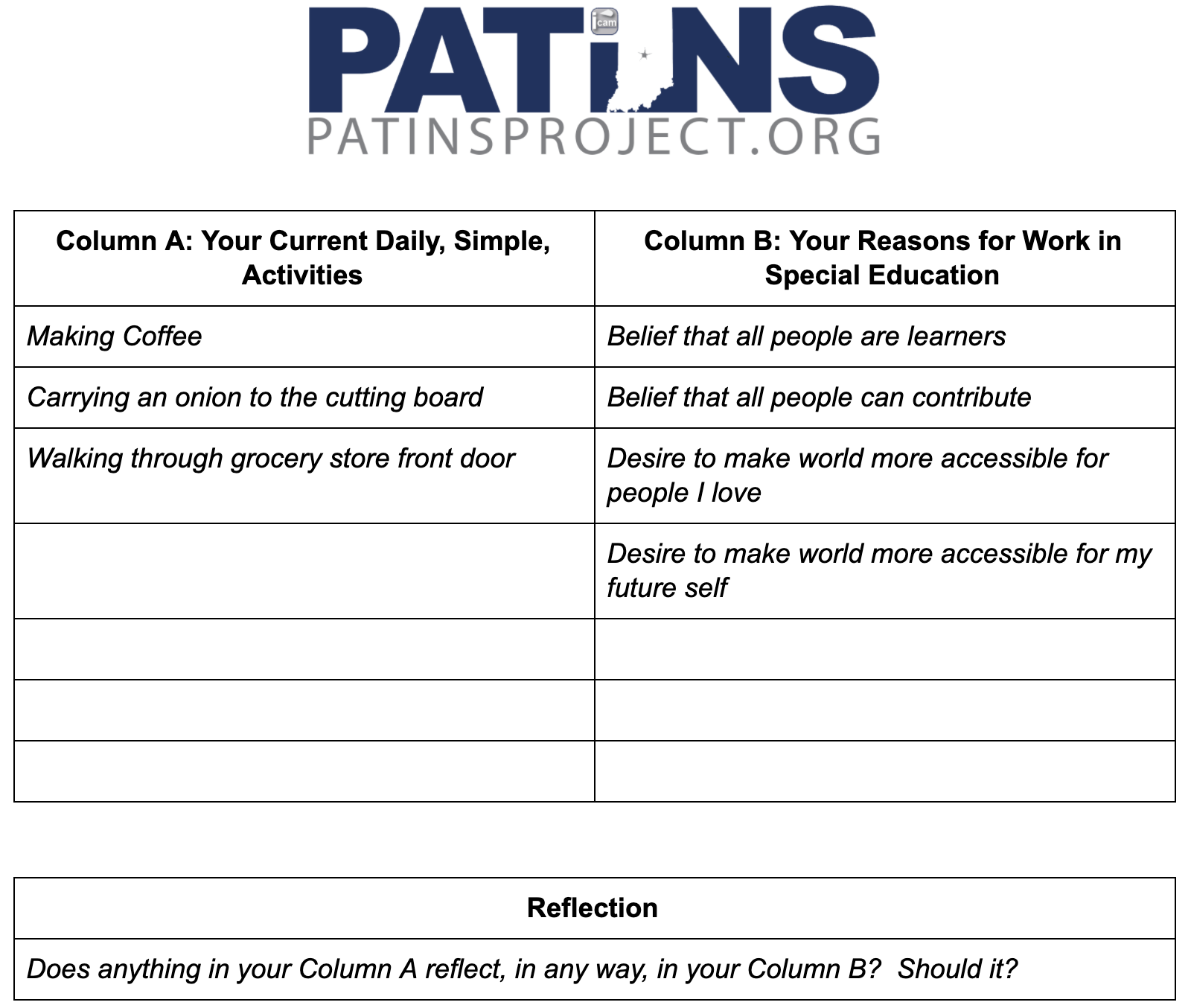 Now, I'm going to make an assumption that many of the readers of this PATINS Ponders blog are educators or other professionals working with learners who struggle with one or more aspects of their daily world. ...some of my most favorite people in the whole world, by the way. I'd like you to now think of why you do this work. Write, type, or dictate the top three reasons you do this work. You've probably stated this many times when people tell you, "I could never do what you do," or "You're a very special kind of person," and then ask you, "What makes you want to do this work?"
Place your second note next to your first note now. Compare them. Do any of the items (activities) from your first list appear, in any way, on your second list (why you do this work)? If they do, you probably already know what I'm going to tell you next! If they do not, stick with me here and let's think about why they should.
Several years ago, a colleague for whom I have a lot of respect, whispered something to me. She looked around first to make sure no one else was within earshot and still whispered the term to me, "Temporarily Abled." It took me a moment to process her term and while I was processing, she indicated that she was whispering it as to not be offensive to anyone around. At the time I nodded my head as she explained that we're all "Temporarily Abled" in one or more ways, inevitably due to either an accident/injury, disease, or simply due to aging. I've spent significant time thinking about her words since that time and more importantly, why she felt it could be offensive to hear. I do want to say that I understand that disability, for people who have a disability now, is much deeper than using this term or this concept to promote understanding. However, the conclusion I've come to is that there is so much work still to be done for our world to truly be inclusive and there are so many people in our communities who have no idea what that even really means, largely in my opinion, because it hasn't had a personal effect on their life... yet. I do think this matters and I think it has potential for making a difference more quickly, fully and meaningfully including all people in all of our communities, all of the time.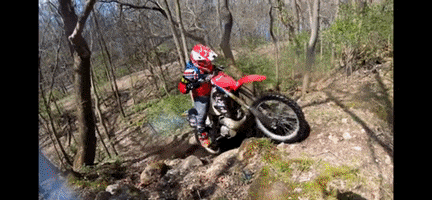 Seven weeks ago, doing what I love on a steep hill in the woods on my old dirtbike, I completey dislocated my right knee, severing all four ligaments and causing cartilage and meniscus damage. Yes, that's right, the MCL, LCL, PCL, and ACL are all torn! I didn't even know there were so many CL's in my knee! Two required surgeries six weeks apart and 9-12 months of physical therapy certainly have put some things into perspective and strongly reinforced many things I already knew. Several of the people in my personal life whom I consider the smartest, strongest, kindest, and most creative I've ever known, have a disability. From this angle, accessibility and inclusion have been important to me since I was a young boy. However, the inability to walk, carry anything, perform manual labor, sleep normally, etc., these last 7 weeks have reinforced another dimension of my understanding of access and inclusion as well. These personal experiences, while never as meaningful to someone else, are still so important to share. While it may not be your experience (yet), my experiences just might add something to your second list that wasn't there before.

Some things I've learned recently and will never forget:
Automatic or button-operated doors that work are very important. Being non-weight-bearing and havinig to fully utilize crutches, I simply cannot open some doors by myself. While most people are very quick to help, if they are around, I just want to be able to open the door myself! Many places have not had working automatic doors, including the hospital where my surgeon works AND the building my physical therapy is in!
Knowing where my assistive technology is at all times, that it's close to me, and trusting that other people aren't going to move it, is essential and causes a good bit of anxiety. For me, it's mostly my crutches. I simply cannot move from one place to another without my crutches unless I sit down and scoot. For someone to see my crutches as a tripping hazzard, for example, and move them, is a lot like taking my legs away from me. I compare this to taking away a learners communication device or system for any reason... behavior, battery dead, damaged, etc. My crutches have become a part of my identity and nearly a part of my body. Moving them or playing with them without talking to me first feels violating. I'm not sure we always keep this in mind when we work with students using assistive technologies. I think that sometimes we feel we're helping by making adjustments or moving things and it might NOT really be a help at all! It might actually change the task entirely.
High Expectations are essential! Be very critical about ever telling someone that they "can't" or "shouldn't" do something that they want to do! Further, expect that they will do things that they think they cannot! In my case, while I may not be able to carry the onion and knife to the cutting board, I can sure as heck prop myself up and chop it like a pro! ...right along with the peppers, carrots, tofu, and zuchini! I actually love when I'm asked to do things instead of asked what someone can do for me! "Can you come chop this onion." "Can you refill that soap dispenser in the kitchen." I already know that I need many things done for me, but I can totally still do other things and I need to feel needed as well. Let's try to remember this with ALL of our students!
My "mule pack" is essential to my level of independence. This is a simple and low-tech assistive technology that I greatly rely on. It's a small backpack that I can carry without my hands, that I cram full of as many things as possible allowing me to not have to ask someone else to get them for me. All the things I need daily or that are high on the list of importance, such as my wallet, tools, medical items, snacks, personal care, etc. This allows me to have many of the things I regularly need with me, minimizes repeat trips, and minimizes my reliance on others.
Steps! There are just some steps that are too high, too steep, or too slippery for me to even consider using. This means that I have the choice of not accessing that place or sitting down and scooting up or down the stairs...neither allow me to feel dignified or included in that place.
Trust! Whether I like it or not, I simply need help with some things. Our students do too. Having someone you trust immensely is very helpful. Someone you trust to encourage and push you to grow, to assist you minimally enough to preserve your independence and dignity, and to still expect great things from you. This is also exactly what our students need! Thinking about this from the perspective of what I need from my trusted help right now, most certainly provides some guiding mental framework for when I'm the one helping students in the future.
These are just a small handful of some things that I've realized and/or had solidified for me recently. I'm sure I'll have many more to share. This has truly reinforced the fact that accessibility is so important for everyone, all the time, even if you aren't one who needs it right NOW. Chances are definitely that you will need something different, something specialized, or just something more accessible at some point in your life, either due to an accident, an injury, a disease, or through aging. The notion that accessibility only matters for a small percentage of "the disabled" is so completely short-sighted and irresponsible to your future self! If, for no other selfless reason, try to keep in mind that the fight for inclusion of all people, high expectations of all people, accessibility to all places for all people is a critical one for more reasons than you might know right now. The loss of or lessing of inclusionary concepts in any amount is a very slippery slope. Work hard, daily, to build a culture of increased expectations and inclusion of all people, never letting that lever tip in the opposite direction. Imagine all the things that are simple for you now that could very quickly and easily be otherwise...what sorts of actions on your part TODAY might better prepare your world for that scenario...what sorts of people would you want surrounding you in that sort of scenario? Speak up when you notice inaccessible entries, public televisions without captions, etc. Learn and become better equipped through the many diverse PATINS Trainings on our Professional Development Guide and our Training Calendar. Trial the many assistive devices available to you, through the PATINS Lending Library!...all at no cost to you, of course! Consider networking and furthing your knowledge-base by attending the FIRST-EVER PATINS Access to Education VIRTUAL Conference this coming November!